Home » sticker printing »
Essential factors to consider for designing custom labels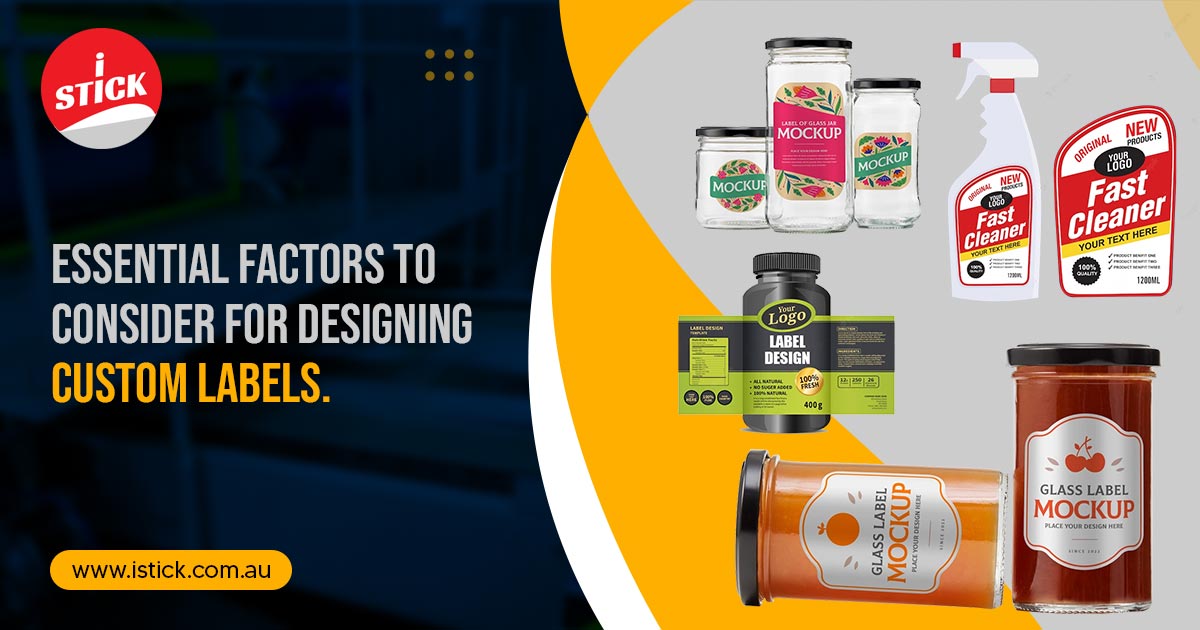 Unique custom labels have the power to grab customer attention spontaneously and speak for themselves. In building a brand, labels play a significant role in conveying the product's importance to the target audience. So, before you start looking for custom label designers in Australia, let us understand about custom labels and the factors required for designing custom labels.
Why Custom Label Printing?
The first impression develops a long-lasting impact in perceiving your brand. Sometimes even though your product is amazing it might not catch the customer's attention and risk your whole sales. So, there comes this thoughtfully customized label printing and sticker label printing which works as a remarkable marketing material. Here are the following reasons to opt for custom label printing:
Custom label printing facilitates people to recognize and remember your brand.
Stickers clearly reflects the brand's message to the customer. They arrive in variety of shapes and sizes like roll, single, sheet, custom vinyl labels, and sticker labels.
Creative custom vinyl labels quickly resonates with the target market. With innumerable professional/personal use, these custom labels separate each brand from its competitors via an attractive visual cue.
Utilizing emotional elements and creating a theme with custom label printing creates a whole new dimension for the product, thereby attracting and enhancing brand value.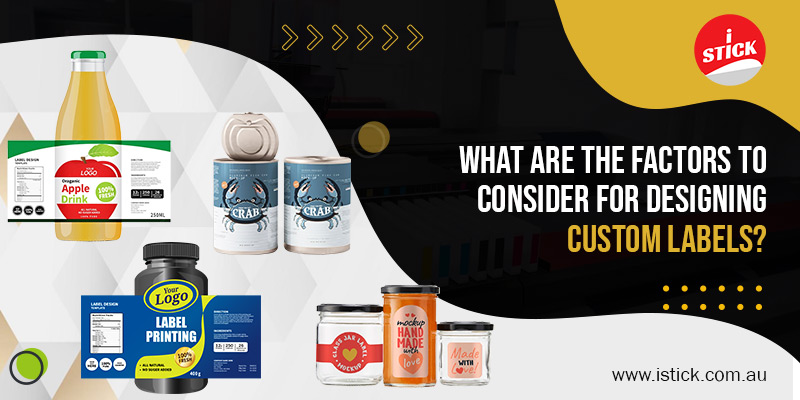 What are the factors to consider for designing Custom Labels?
Creating your customized labels is a gateway to promote your brand and products. A distinctive custom label will influence the customers to take a closer look at your product. Let us look at some important points to be kept in mind while designing custom labels:
What is the Product-

Having complete knowledge about the product is the crucial step in designing a custom label. The type of product should naturally blend with the designed custom labels, thereby communicating the item's value effectively, spreading brand awareness, and hence securing customer loyalty.

Target Audience-

Who are the people you wish to cater to- men or women? Young or adult? This can be one of the challenging factors but once you have a clear idea of who your audience is, then it is easy to design custom labels more effectively, connect with the audience, and earn their loyalty.

Competitors-

With detailed market research first analyze your fellow competitors and then create a dominant designing custom labels strategy. This will profit you enormously and helps to stay competitive.

Color –

Colors can influence people's emotions. While designing custom labels choose colors that coincide with what the brand portrays. This key factor when applied correctly will do wonders in boosting your sales.

Background image-

Incorporating apt visually appealing background images while designing your custom labels will showcase the message the brand wants to say. A professional background image can make your custom labels more desirable to the audience accurately representing the brand.

Material-

Strictly focus on using only the best quality materials. The design elements you have chosen should fit all the shapes and sizes along with the needed texture and finish of your chosen materials. The materials you choose will determine the label's functionality as each label material has its prime qualities and characteristics.

Shape and size-

For every type of label like single labels, sheet labels, glass window stickers, sticker labels and custom vinyl labels the shapes and sizes are the prime factors in determining the label outputs.

Font-

Font plays a vital role in influencing customers and their behavior during the whole purchase process and in making the brand a grand success. The right and professional typography convey the brand's message effectively.

Theme-

The whole custom labels' outcome depends on the theme you choose. Pave way for a consistent and trending theme always in your custom labels printing and sticker label printing for easy recognition. The theme keeps all the design elements cohesive.

Graphics-

This includes all the design elements with overall visuals in your labels and stickers. The use of graphics is very much needed for highlighting the content, creating a unique brand impression, and attractively conveying the brand's message to the target audiences.

Printed Information-

Encompassing all the original, correct, and pertinent information about the product as per the law is also a crucial factor. As only the labels protect your audiences from buying a fake or wrong product.

Cost-

Without any significant difference in price the labels should be customized as per the precise requirements.
Boost your sales with custom labels
The best-designed custom labels can do magic in drawing customers' attention towards the brand and boosting its sales. Though custom label printing might feel a little tricky, be sure to consider all the valuable factors mentioned.
It is always better to work with design and printing experts to bring about the best in your labels. Istick provides the best custom label services in Australia and caters to all your custom label needs. We strike a right balance between the trend and aesthetics. We are professionals in designing and printing labels for diverse industries. Increase your brand awareness and boost your sales with Istick custom labels!