Home » sticker printing »
From Types to Sizes: A Guide to Designing Printed Stickers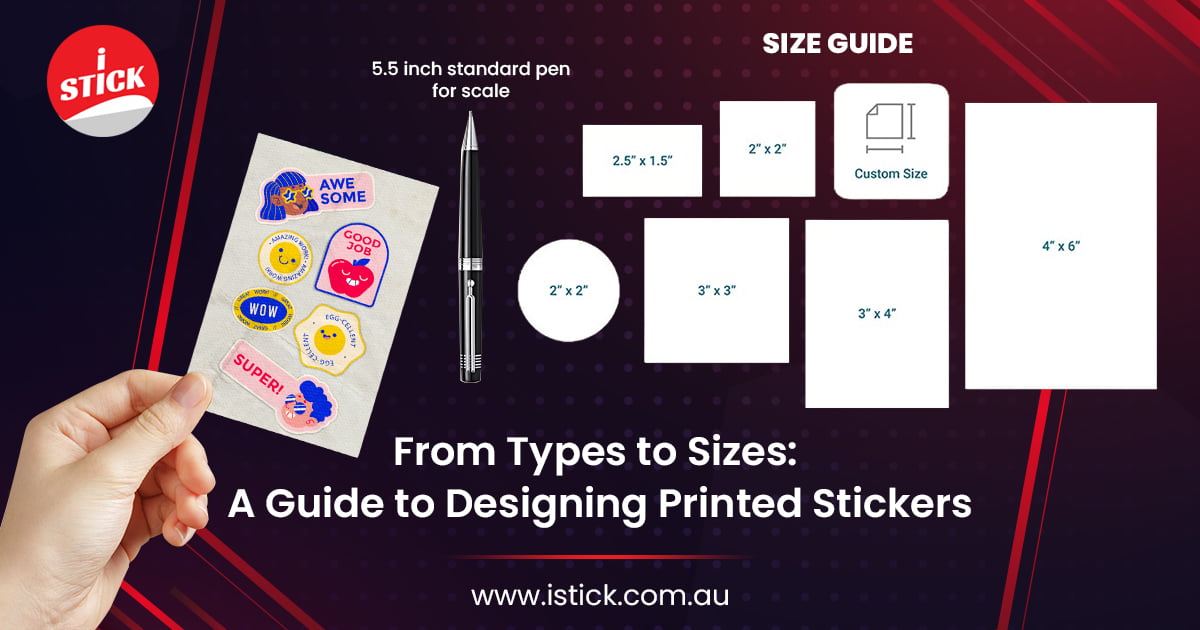 Is there someone who doesn't love stickers? We guess not, but have you ever had a sticky situation when you're trying to print stickers? Don't worry! Istick has you covered with a range of sticker print solutions that are incredibly customizable to your company's requirements.
Stickers have always been a creative and adaptable way to communicate and express oneself. Designing printed stickers may be a fun and worthwhile project, whether you use them to decorate your surroundings, promote your brand, or personalize your possessions. Here, we'll cover everything from the many kinds of stickers that are offered to pick the best sticker sizes for printing.
If you're looking for a complete guide to designing printed stickers, then you're in the right place. We have organized and structured the entire process for designing printed stickers.
Some Common Types of Stickers
Even though stickers are fun and exciting, each sticker is made differently using different materials. Here are some examples of that.
Vinyl stickers:

Commonly known as PVC stickers. They are the most durable and thickest materials of all sticker types. Vinyl is best used for bicycles, laptops, and other outdoor equipment.

Paper stickers:

They are the most cost-effective type of sticker material and are highly recommended by many printing firms. Usually used for labeling wine and beverage bottles or in packing.

Holographic stickers:

Yes, the word itself sounds fun. This is the sticker that has a rainbow effect finish. This will be a great choice to advertise appealing and fun visuals. As holographic designs are difficult to copy, they're usually used for security seals and logos. If you're creative, then this is for you.

Clear stickers:

These are the most common type of stickers, as they are transparent or translucent and also, affordable. They blend in perfectly with the background. They offer a subtle but elegant appearance.

Die-cut stickers:

This is a customizable cut sticker to exactly match your design. You can print this type of sticker into the exact shape that suits your product, not only the usual shapes such as square, circle, or rectangle, and make it nice and appealing.
How to select the perfect size?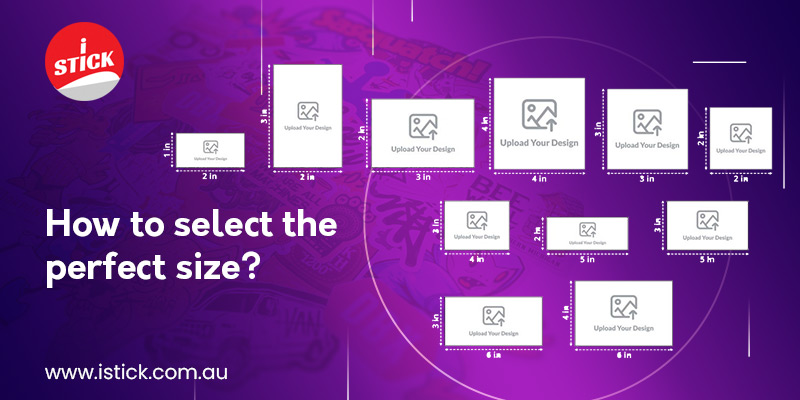 Now you might have an idea of what type of sticker you want, but what if you pick the wrong size? Relax, that's why Istick, the expert, will be guiding you through the whole process. Here are some factors you should bear in mind before making any irreversible changes:
Purpose of printing the sticker
The first step will be imagining where and how you're going to use this sticker. The size and shape of the sticker are totally based on the product. Then printing them in the right material is just as important as finding the right design.
Creative Design
Then the next stage, or station, is the design. Make sure your design is not copied or is the same as any other product. Design is an important process because it's the only thing that's going to interact with customers. The color combination, contrast, font, and font size. Always use bold typography that is easy to understand. So making the design attractive is very important.
The Right Sticker Size
Now, you must be thinking of the sizes of the stickers, like how small is too small and how big is too big. Here's a standard sticker size:
1×1 (inches): Around the size of a large coin (small)
1×1 (inches): Around the size of a large coin (small)
2×2 (inches): The size of the passport-size photos (small)
2×3.5 (inches): Roughly the size of a visiting card or business card (Big)
4×6 (inches): Close to a standard photograph or A6 sheet (Big)
5×5 (inches): Around a slice of bread (Big)
All these sizes come in all shapes, including customizable shapes.
Budget and Brand Identity
Here are the two major factors in printing the stickers. The budget is the most important part, so is brand identity. Both should be in perfect balance. The bigger sticker may seem attractive and communicate better, but it also has higher production costs. So it's vital to find the perfect sticker size.
Consult Istick
Before making the final decision about your sticker, consult with us. We'll provide you with suggestions or better alternatives if required. As we are experts in printing stickers, we'll guide you through the entire process and make sure your design is printed perfectly.
Wrapping it up!
All these might be a lot to remember, but that's why you have Istick. We will do that for you. Designing printed stickers is a fun and creative way to interact with your customers. So making the perfect sticker to promote your brand is what you need now.
Istick will provide you with that at the best quality, and at an affordable cost. We have 20 years of expertise in printing stickers the way you want. Partner with us and make your business stand out from the crowd. Why be ordinary when you can be extraordinary?