Home » sticker printing »
Why are paper stickers the best option for any occasion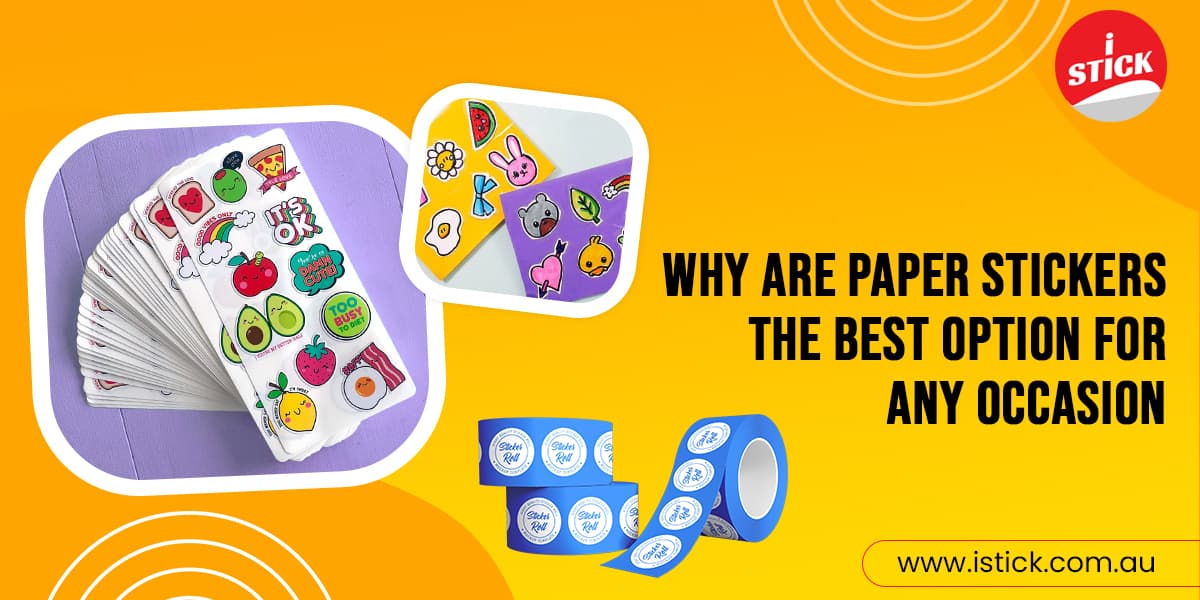 Paper stickers may appear to be an artifact of the past generation in a world increasingly dominated by digital technologies. But these magically flexible adhesives continue to hold their charm and are the perfect choice for any occasion.
Let's look at why sticker papers, mainly custom paper stickers, are still a popular and practical choice in today's fast-paced world of design and personalization.
Flexibility of Sticker Papers
Paper stickers can be designed and customized in an unlimited number of ways. Sticker paper can be tailored to your specifications, whether you're designing custom stickers for wedding invitations, packaging for your small business, or simply for personal expression with various sizes, shapes, and designs.
Custom Stickers for Every Occasion
Paper stickers' capacity to be personalized for any occasion is one of their most intriguing characteristics. Custom stickers can be adapted to any event's theme and purpose, whether you're celebrating a birthday, announcing a new product launch, or making business brochures. From logos to slogans to elaborate drawings and artwork, anything can be printed on paper stickers.
Affordable and accessible
Paper stickers are the most economical choice and may be utilized for both personal and commercial purposes. You don't need a lot of money to make eye-catching paper stickers that fit your purpose well.
Design your creative paper stickers
You have complete creative freedom to create stickers that reflect your style and personality. These stickers, with matte or glossy finishes, give you a variety of appearances and textures to choose from. There is a sticker paper for everyone, whether you prefer an antique, rustic design or a modern, sleek appearance. Whether you choose simple designs, brilliant colors, or elaborate designs, paper stickers can easily complement your preferred style.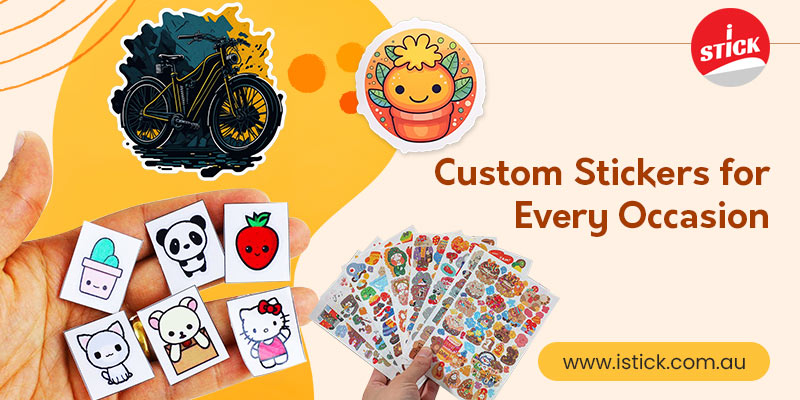 DIY printable stickers
Paper stickers are your best friend if you enjoy DIY projects. The user-friendly interface of iStick makes the design and printing processes even more accessible. Printable sticker paper is readily available and reasonably priced, making it a cost-effective alternative for your projects.
Environmental-friendly substitute for vinyl sticker paper
Vinyl sticker paper has been a popular choice in the past, but the environmental impact should be considered. Paper stickers, particularly those created from recycled or sustainably sourced materials, are a more environmentally friendly option. They are renewable and can easily be recycled, reducing your carbon footprint and contributing to a better environment.
Suitable for any occasion
Paper stickers are quite adaptable and can be used for multiple purposes. Here are a couple of examples:
Weddings and birthdays:
Custom stickers can be used for wedding invitations and wedding gifts. Also, you can create distinctive stickers to decorate birthday cards, party invites, or even gift wraps and party treats.
Business Promotion:
Can be used as branded paper stickers to promote your company. Often used on packaging, advertising materials, and product labels to raise brand awareness.
Craft Projects:
Paper stickers are a versatile addition to any craft kit, whether you're a DIY enthusiast or a teacher planning creative projects for your students.
Effortless removal and re-positioning
Paper stickers, unlike certain vinyl sticker papers, are often easy to remove and reposition without leaving a sticky residue. Hence, these are the perfect choices for event signage, seasonal decorations, and many more.
iStick: Your Sticker Paper Companion
Looking for the ideal sticker for a product, promotion, event, or as a gift? We can create custom stickers for nearly any occasion. iStick can create custom stickers in any size, shape, or quantity using unique die-lines. iStick's personalized decals are the ideal option for your window or car branding. Our personalized decals are supplied computer cut to shape on the liner and with transfer tape, making them simple to mount and install yourself. Available in full color or choose from our selection of high-quality colored vinyl to create the perfect custom decal.
Look no further than iStick to take your paper sticker game to the next level. Print your paper stickers with iStick and produce stunning paper stickers.
When it comes to releasing your creativity, iStick is your go-to sticker-making companion. Explore the world of paper stickers now and let your imagination fly!