Home » sticker printing »
The Optimum Guide for Different Kinds of Stickers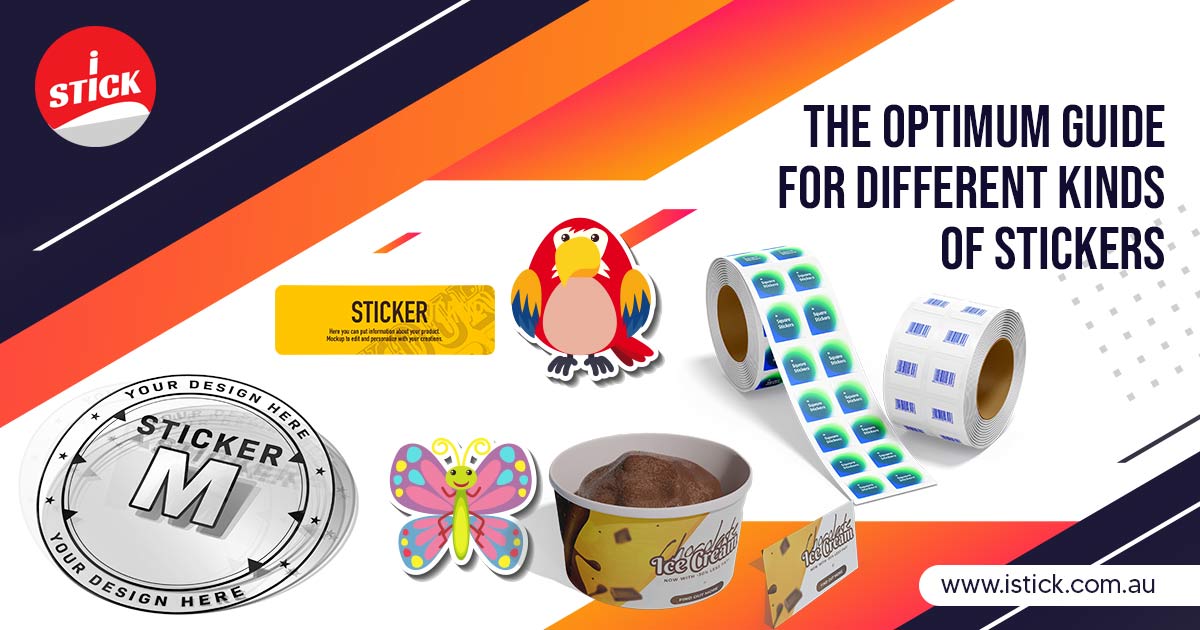 Printed stickers are one of the most popular means to market an idea or brand. They appeal to people of all ages and from varied areas of interest. You see them as labels on bottles, as giveaways at events, stuck on the car of an enthusiast, etc. This versatility combined with the fact that they are easy and fast to print makes stickers a great choice for marketing.
The best part of using stickers is that you are not stuck with a one-size-fits-all format. For all the varied uses there are different types of stickers. Careful consideration must be given to the concept and product before narrowing down on the sticker types that would be suitable for your purpose.
For example, if you have a business selling homemade organic sauces, you will want the bottle or can sticker to be oil and water-resistant. You may also want it to have an earthy look to reflect the concept of your home-grown brand. But a motor enthusiast would want a sticker that can withstand diverse weather conditions. So, let us look at the different sticker types that are available on the market today.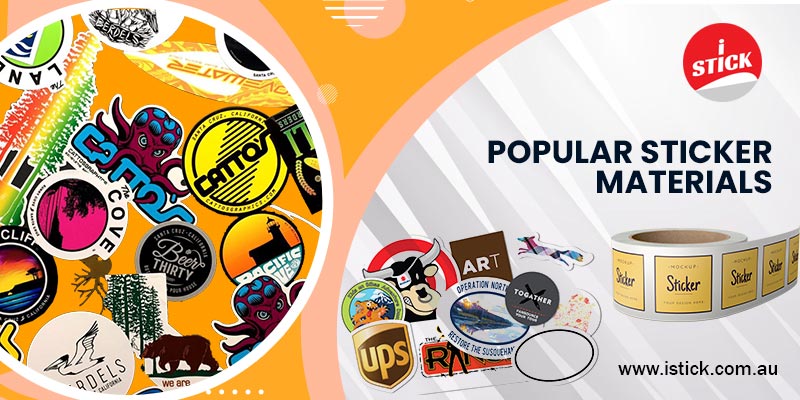 Popular Sticker Materials
These days, there is a wide variety of materials that you can choose from for your stickers. This will depend on the purpose of the stickers as well as the look you want for them. Let us look at a few of these.
Paper – These are most suited as labels on the packaging of dry products as they are not waterproof. They can be written on which makes them a good option as labels or for art and craft products.
Textured Paper – This is a thicker and sturdier paper and gives a vintage feel. With UV coating, they can withstand moisture, so they are popular for wine and beverage bottles.
Polyester – This material has a metalized finish and is suitable for both indoor and outdoor stickers. It is highly resistant to extreme weather conditions and is a popular choice for warning and instructional stickers.
Vinyl – This is the most durable material and is weather, water and chemical-resistant. It can also be molded to curved surfaces. Therefore custom vinyl stickers in demand for cars, motorbikes, sports gear, etc.
BOPP – This is a more economical alternative to vinyl. BOPP or biaxially oriented polypropylene is not suitable for outdoor use but is oil- and water-resistant. This makes it the perfect choice for food and bath products. Clear BOPP is an ideal choice for window and glass stickers whereas silver BOPP gives a mirror-like finish to the sticker.
Recycled – As the name suggests, this is made from 100% recycled material. It has a rustic vibe and is an ideal choice for brands aligned with sustainability. However, it cannot be laminated and hence, is not water- or oil-resistant.
Perforated Film – This is a long-lasting material most suited for outdoor use. It is ideal for spaces like windshields as it does not obstruct the outside view from within.
Different Sticker Formats
For printed stickers, you have the choice of not only material but also format. Here, we list four of the most popular formats.
Sheet – This is the most common format with multiple stickers on one single sheet. You can have stickers of different shapes and sizes on one sheet making this a convenient and economical choice. It is good for bulk printing in cases where there is no sticker dispenser.
Roll – The stickers are printed on a long strip of paper and are wound around a cardboard roll. This is well-suited for large orders of stickers to be used with a dispenser.
Die cut – In this format, the stickers are cut individually using a laser. Die cut stickers serve well for small, personalized orders and are popular for cars, laptops, appliances, etc.
Kiss-cut – These are also individually cut but here the backing is left intact. This is great for stickers with intricate outlines. The backing serves as a bonus space for printing your logo, website URL, and other details.
In Conclusion
Sticker Printing is versatile and can be used effectively for several purposes like marketing, labeling, giveaways at events and parties, as forms of self-expression, etc. To adapt to this versatility, the industry has innovated with materials and formats suited for different types of stickers.
If you are feeling overwhelmed with all the information on different sticker types, then don't fret. Discover the magic of stickers with the team at Istick. With years of experience, our talented team will be able to guide you to choose the material and format of stickers best suited to your needs. We offer custom stickers in whatever size, quantity, color or stock you opt for.
We cater to personal branding, medium sized companies, or even large organizations. Let us know what you are looking for and our team will get in touch with you soon.
Enhance your brand awareness with unique customized stickers from Istick.