Home » sticker printing »
Things You Need to Know About Pantone Color Matching for Custom Stickers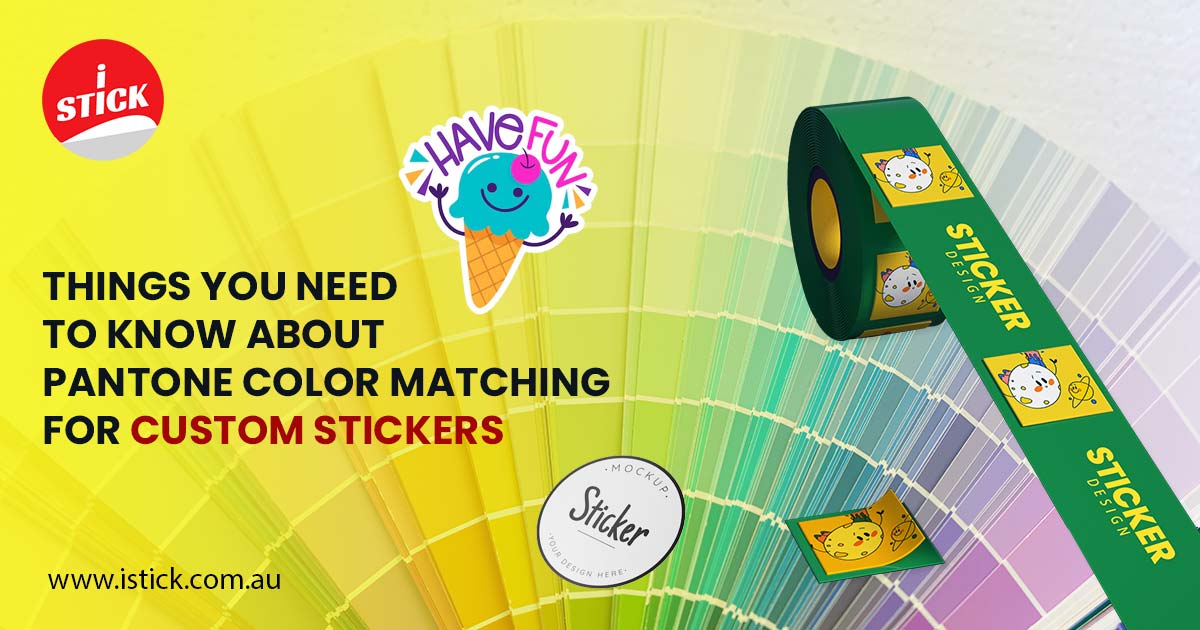 What if you see a Coke bottle where the logo color is a duller shade of red than the "Coke red"? Or you receive a Tiffany's box which is of a different blue than they are known by? You would probably dismiss them as being fake. That is how important brand colors are to a business. Pantone Matching System was developed for precisely this aim of achieving color consistency.
One of the most visible and cost-effective ways of promoting a business is using custom labels or custom stickers. If you are designing these for your product or business, then read on to know more about Pantone color matching.
What is Pantone Matching System for Custom Labels?
The Pantone Matching System was developed in 1963 as a way to standardize the identification and matching of colors. Each color is given a unique number and name for easy identification. Under the Pantone system, there are more than 1800 solid colors identified and listed and these can be found in the printed catalog of the Pantone Matching System.
When you are designing custom stickers for your product, using Pantone matching colors helps in getting the exact color onto the custom label. Unlike in systems like CMYK, there is no calibration of different colors in the Pantone system – it is just the color itself. But let us see why it is important to use the Pantone color scheme while designing for sticker printing.
Why use Pantone Matching System for Custom Labels?
Colors evoke emotions, and help build powerful associations in our brains. This is why it is such an important aspect of brand building and visibility. Pantone system has changed the game as far as color standardization is considered and here are a few reasons why you must use this system for your custom labels.
Colors are perceived and interpreted differently by different people. The universal system provided by Pantone leaves no room for misalignment in the understanding of colors due to this difference in perception.
Remember when you are getting the sticker printing done that these custom labels represent your brand everywhere. So, the colors used on them will get associated with your brand for all customers – existing and potential. This is why having color consistency across all custom stickers is so important and the Pantone Matching System achieves this easily.
The same color can look different on different materials and backgrounds. Depending on the need, you may want to use the custom labels on plastic, fabric, silicone, or some other material. The Pantone scheme allows you to try out the custom sticker with the same colors on different backgrounds so you know exactly what tweaks need to be done to achieve color consistency.
When it comes to custom sticker printing, Australia has many vendors. You may need to use the services of different outfits for getting your custom labels printed. This is where color identification and matching become crucial so that your brand looks the same everywhere and every time.
You may also need to go in for multiple printing runs of your custom stickers. The Pantone matching system allows you to obtain the same colors in your custom labels in every run.
Things to Keep in Mind When Using Pantone Color Matching for Custom Labels
Before you use the Pantone color system for designing custom labels for your business, here are a few useful pointers to consider:
You need to keep in mind the material you will be using for the custom labels. Colors tend to appear different on different surfaces. In fact, the Pantone system allows you to specify in the name code if the color is meant for an uncoated, coated, or matte surface.
The background color of the custom label will also affect the final look of the colors in your design. White background brings out the true colors while other background tones could change the final appearance of the colors in the design. Using the standardization provided by the Pantone system you must test out the colors on different backgrounds.
As a Pantone color with the same code will be the same for you and your printing vendors, you can test out the appearance of the colors in your design before getting the custom labels printed. There are many preview tools available for this purpose.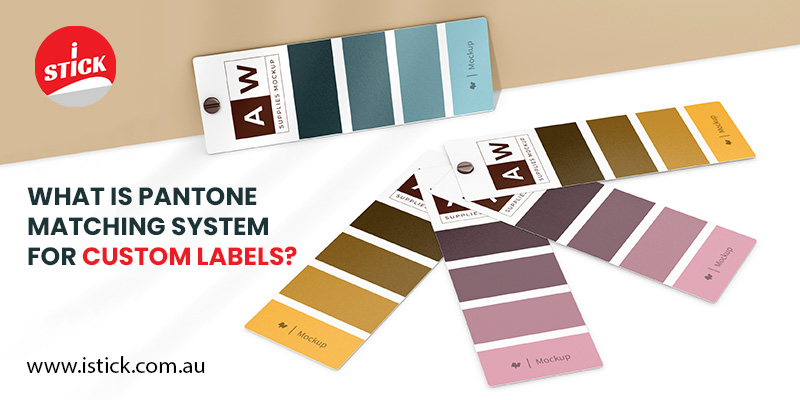 Which Color Do You Want?
For sticker printing, to achieve color consistency in your brand appearance use the Pantone Matching System. If you are overwhelmed by all the information on design and colors, don't worry. Our team at istick has your back.
We have over 20 years of experience in designing and printing vinyl stickers. Our experts can help you with the design, the color scheme, and the use of the Pantone system for your custom stickers. Our dedicated team will ensure you get the customization you desire with the fastest turnaround time in the industry. Get ready to see your brand in Pantone colors all around town!