Custom stickers are a great way to promote your business and attract new customers. They are affordable, easy to make and they can be used in many ways. Custom stickers can be used as promotional products and giveaways at trade shows, conventions, and events. You can also use them to give away as gifts or sell them in your store.
The main advantage of using paper stickers is that you have the freedom to create whatever design you want. You can use your logo or slogan on the sticker and make it look however you want it to look like.
Personalized stickers are excellent marketing tools since they can easily be distributed among people who will carry them wherever they go. If you want your business to reach more people, then it is important that you use custom stickers at events or other places where people gather in large numbers.
If you want to know how to design custom stickers, then this blog is for you. We have outlined major steps that you do not want to miss in your design journey.
Plan Your Design
Planning your design is the first step. It is easy to get carried away with ideas and spend hours trying to make them perfect, but if you do not plan first, you run the risk of not having enough room on your sticker sheet or making a mistake that requires reprinting.
Start by making a list of all the elements in your design. Before you start designing your sticker, there are a few things to consider:
What kind of image will you use?
What is our brand message that I want to convey?
Who are my target audience?
Can this sticker be used for advertisement?
Can this design be used with other types of paper?
These questions will help you create the perfect design for your needs. Once you brainstorm these basic questions to understand your branding, the next step is to get to know the elementary things about your design.
Pick a theme:

If you don't already have a concept in mind for your design now is the time to brainstorm. The objective of your theme will determine its design.

Select a colour scheme:

When you start designing, select a colour scheme. This might be as simple as selecting one primary hue and two accent colours, or as sophisticated as developing a distinctive colour scheme for each sticker.

Make a mood board:

A mood board is a collection of images and text that represents the overall appearance and feel of your sticker design. You can make one making use of Pinterest or internet tools such as Canva or PicMonkey.
Choose the Right Sticker Paper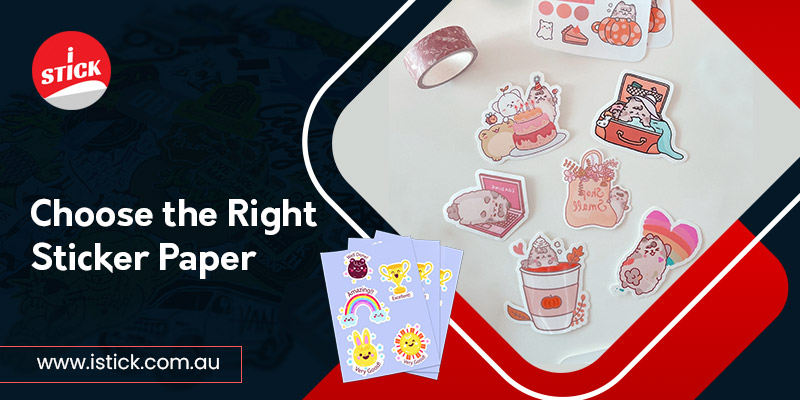 There are many different types of sticker paper available for you to use, and each material has its own specific characteristics that make it better or worse for certain applications. The type of material you choose will depend on what kind of stickers you want to create.
Once we understand the factors contributing to the material type you choose, there are many different materials available such as vinyl stickers, Poly vinyl chloride stickers or paper stickers.
Prepare Your Artwork
Before you print your stickers, make sure that your artwork is ready for printing. This includes making sure that your colours are converted to CMYK (cyan/magenta/yellow/black) mode and that any images are set up as vector objects. If you are working with a design program like Adobe Illustrator or Inkscape, save your file as an EPS or SVG file so that it will be compatible with the printer software.
Choose the Sticker Size for Your Sticker Design
The size of your sticker design will depend on how you want to use the stickers and what purpose they serve for your business or brand image. For example, if someone wants to use their custom stickers as promotional giveaways at events or conferences and trade shows then they may wish to have smaller stickers so that they can fit more into a briefcase or purse while travelling from event to event. On the other hand, if someone wishes to create large banners or signboards, then large PVC stickers that are weather resistant can be used.
Select the Right Printing style
The final thing you should do is choose the right printing style for your stickers. You can go with screen print, digital printing or offset printing depending on your budget, requirements, and preferences.
Wrapping Up
We believe that if you want to make your brand stand out from the crowd, then custom stickers are the best way to do it. We at Istick, have been working with several businesses across industries like retail, food & beverage, healthcare and more to give them a professional look through our custom stickers and labels.
When you sign up with us, you get:
A great variety of sticker sizes: From small to large and everything in between, we have it all.
Customize your own sticker designs: We offer an unlimited number of colours and themes so you can make sure only your unique design will be printed on our vinyl material.
Easy ordering process: Ordering your own custom-made stickers could not be easier with us – just fill out our handy order form and upload your artwork.
Make your stickers shine with Istick!