Home » Uncategorised »
Custom Vinyl Sticker Ideas for Your Business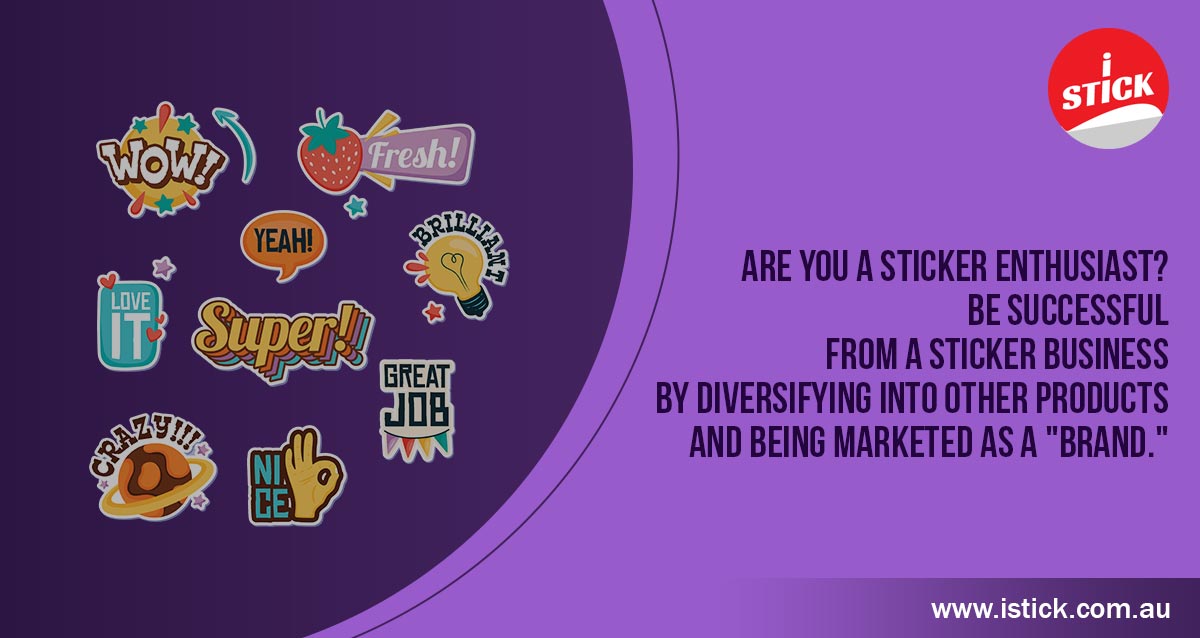 Are you a sticker fanatic or looking for a unique niche to begin your own diminutive business? Starting a sticker business proffers a wide range of opportunities. Custom vinyl stickers are the most practical marketing tool used by businesses around the globe. But, how are you going to contend with these businesses and websites that offer the best vinyl sticker printing? How are you going to serve to connect with the desired market? What unique do you have that they don't?
"Success" in a "custom vinyl sticker business" is relative. Some quick Google searches will show you businesses and products related to your niche. Many new vinyl sticker printing businesses have jumped on board because of ease in setting up websites and trading online, which have diminished entry costs to startup the business. A high-quality vinyl sticker can pivot almost any surface into a marketing potential.
Marketing ideas for promoting custom vinyl stickers
Does your product labelling is vital to increase brand recognition and promote sales? If yes, then custom vinyl stickers can save your time and money.
Vinyl sticker marketing is a compelling way to promote your brand and can be affixed to all kinds of product displays, packaging, signages, and other high-visibility settings. Easy to advertise in fun environments casually with minimal investment versus brand storming traditional marketing methods.
Scroll down to learn about different ideas to incorporate custom vinyl stickers business;
Direct marketing, product promotions, and seasonal sales:
The main objective of a vinyl sticker promotion is to boost the image of your business through enriched visibility, so don't step back if an advantage arises on your way to uplift the business.
Lure attention to your latest products, create the best vinyl stickers with eye-catching designs that leave customers perplexed from the shelves.
No matter the occasion or festival throughout the year, vinyl stickers will glorify your latest sale equally well, whether in your storefront window or on your vehicle.
Graphics on storefront window:
Use existing high visible storefront windows and doors. Print vinyl stickers with window graphics that are affordable and easy to replace, so businesses can easily update them throughout the year and reuse seasonal custom vinyl stickers. Custom print vinyl stickers are easy to remove and replace and does not sabotage the existing structure. The best seasons to promote custom vinyl stickers on wall graphics with large format vinyl banner printing are Thanksgiving, spring break, Christmas, new year, and back to school.
Hazard and safety signage vinyl stickers:
Trust custom vinyl stickers for better workplace hazards. You cannot afford them to degrade, disappear and fade. Also, we have to protect the visitors and staff. Safety graphics and signages with instructions and information on different types of equipment and walls throughout your job site are a more permanent and pretty solution for customers and employees to read rather than miscellaneous paper hung on the ceiling.
Floor graphics and directional signs as way findings:
If you are hosting an event, expos, trade shows, special sales for significant events, custom vinyl floor graphics are perfect for grabbing attention and making a lasting impression. Floor graphics with directional signs will endorse promotions and improve traffic flow. Custom print vinyl stickers for floors are scuff resistant, decent and removable and won't damage your beautiful floors.
Custom vinyl stickers on personal items, equipment, and cloths:
Business equipment, usually visible to customers out in the open, paste vinyl stickers on tables, fridges, laptops, cash registers, garbage and recycling bins, works as mini advertisements and help your brand stick in the customer's mind. Custom vinyl stickers Australia offer custom iron-on transfers for employee uniforms, such as t-shirts, hats, aprons, which are flawless methods for branding such items with the company's logo or slogan to create a sense of style and feeling among employees.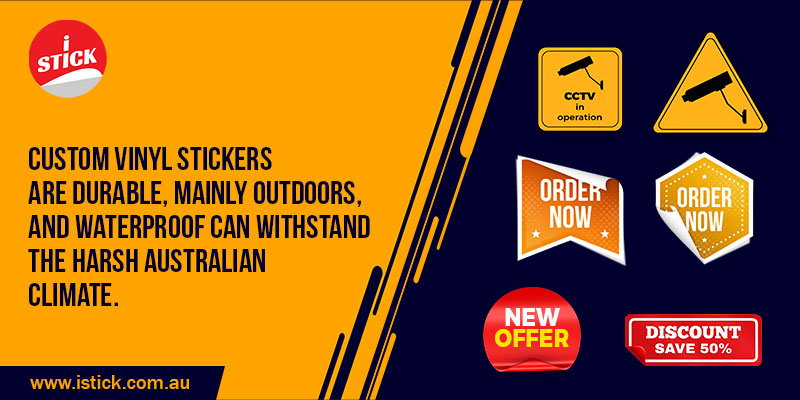 Removable static-cling decals:
Some customers are unwilling to put permanent vinyl stickers on their storefronts and vehicles. In that case, custom vinyl decals with static-cling plastic will come in handy. Vinyl sticker Melbourne manufactures removable custom vinyl decals that are traditional adhesive back stickers that are easy to apply and remove. Ask the vinyl sticker printing company to select the best decal paper which suits your business.
Co-branding:
For example, a coffee restaurant and milk supplier company can display their relationship and hopefully attract new customers to each other way. Co-branding helps companies pool resources and opportunities to work together and ask if they consider adding your custom vinyl stickers on storefront or windows.
Freebies:
Who doesn't love free stuff? Give out custom made stickers, pens, bottles, hats, t-shirts and many more at trade shows, grand openings, special events with a logo on them; they might look up to you later. A street festival and country fair are the best opportunity to meet and talk with people about your business.
Vehicle vinyl stickers:
Custom vinyl graphics for cars, trucks, and bikes are more affordable than a custom paint job. Add vinyl logo stickers and graphics lettering on our vehicles which can also be moving billboards. Vinyl stickers Melbourne prints attractive vinyl graphics for all service-related businesses, be it for electricians, plumbers, mechanics Etc, who use vehicles 24/7.
Things to consider:
Don't paste the sticker on private buildings, walls, municipal property, and personal vehicles without permission. Or you end up getting calls from angry residents and businesses. Also, it is better to avoid negative blowback from posting stickers in hassle locations.
You can also consider these following extra mentioned tips to expand your market with custom vinyl sticker printing,
Increase traffic by Google ads advertising.
Create an online store on Instagram, Facebook and Twitter.
Spread the word on social media to reach out to new customers.
Optimize your website to rank higher by keyword research.
Customer reviews are a powerful promotional technique.
Conduct free giveaways to drive more customers to the store and website.
Conclusion
Like any business, it takes planning, vision, creativity and good work ethics to be successful. Like here at Istick, specialized printers manufacture custom vinyl stickers in Melbourne. A well-equipped workplace with modern equipment and years of experience achieving milestones in vinyl stickers in Melbourne, and we can help you deliver genuinely epic, unique custom vinyl stickers from pocket-friendly sized custom stickers to large custom vinyl decals, turning your ideas into ideas reality. Talk to our friendly team for the best suggestions.