Home » Uncategorised »
How custom sticker printing could promote your business in Australia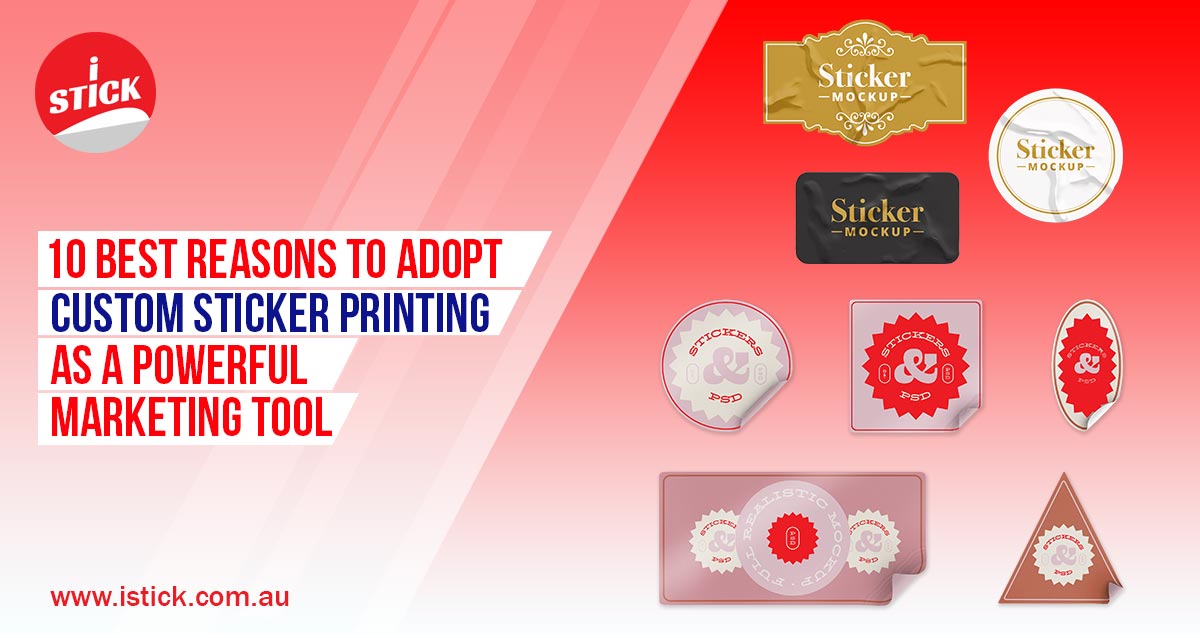 Have you purchased any product that is so intriguing with mindblowing promotional packaging? But have you thought about why you bought them? Most of the promotional posts of these brands have customized stickers printed on every package, every single piece inside it! The brand cares about customer gratification by creating top-notch adhesive and high-quality sticker printing. That dramatically boosts sales, and more customers will know what custom sticker printing companies bring forth.
Therefore, lesson learnt! In a competitive era of business, no brand can be triumphant enough unless they know how to promote a company that has something special about it. If you make your customer feel worth the money, time, happy and satisfied, trust me, they will not stop talking and sharing about it. And the importance of having stickers printed on product packaging and other merchandise is the new game-changer obtaining an attractive look to your products.
The more people positively talk about your custom stickers for products and stuff, the better it is for you to produce a more exciting and pleasing exhilarating quality.
Custom sticker printing: Most popular stickers make your brand recognizable.
Custom branded sticker is a powerful tool for advertising purposes. We see stickers everywhere in our daily life, but we take granted. These advertising strategies are limitless, whether buying a new phone, clothes, shoes, types of equipment, food products, signages, packaging, laptops, or lampposts.
Advertising print stickers in Australia are not pushy. It is a low cost, colourful, high impact with vibrant custom stickers that can strengthen your brand by your target audience. The benefit of peer-reviewed and appreciation is acknowledged subconsciously by friends and peers, making them more gullible to a product, service or brand.
Different custom sticker companies in Australia manufacture different stickers according to their customers brand recognition and loyalty. Here are some most popular custom stickers shortlisted:
Biodegradable paper stickers: These stickers are 100% compostable, vegan and for indoor use only.
Heavy-duty stickers: Built for extreme uses, 2x stickier, and 8x thicker than other stickers.
Die-cut stickers: Most versatile and bestsellers of all stickers, can be cut in any shape.
Transfer stickers: Also known as cut vinyl or lettering. It can be cut from a single bit of vinyl and use single colour; white or black.
Mirror silver stickers: Printed on silver effect vinyl, best suited for outdoor and indoor use.
Clear stickers: Can be cut into any shape, clear vinyl is visible, these use full-colour print with white ink.
Kiss-cut stickers: Fast to apply and peel, cut through vinyl and best option to print on the border.
Glitter stickers: Printed on glitter effect vinyl and best suited for indoor and outdoor use.
Holographic stickers: Printed on rainbow vinyl, suitable for outdoor and indoor use.
10 ways to use custom sticker printing for your business promotion
Use stickers on your product packing:
Custom sticker printing is the best product packing to suit your needs. If you supply products like bags, phones, laptops, equipment, cases, clocks, Etc., putting a brand sticker is a fantastic method to boost your business and is cost-effective.
Stickers on your package labelling:
Get more creative with custom sticker printing design and take it to the next level by adding custom made brand stickers to every piece of packaging. A well-packed product makes a good impression on your customers and business.
Include stickers on business cards and orders:
People attend many events, and many businesses give their business cards. Often people don't remember which card belongs to which person. If your only business card has a sticker that stands out instantly, your brand will be recognized. Sticker printing can be cut into various sizes and shapes.
When a customer orders any product from you, throw some cool stickers that they can use on their items and stuff. This way, customers will tell their friends and family and market your business.
Distribute promotional stickers for your merchants:
To increase your sales, engage your merchants to advertise your brand by sending them a promo pack of custom-made display posters and promo stickers, which boosts profits.
Create repeated customers reward stickers:
If your business targets small kids who come with parents. Identify regular and frequent visited customers and give them stickers with a message written on them like "Best customer" or "Loyal customer". This will make them share with others, instantly attracting more customers to shop from you. This is an excellent way to broadcast and keep them coming back for more.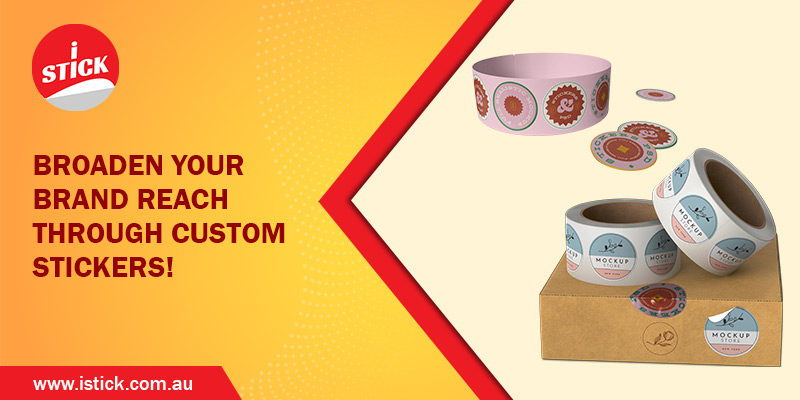 Use stickers as shipping labels and seals:
An eCommerce website is a great advantage. Create branded packaging and custom shipping labels on which you can write their name and address, or add branded eye-catchy sticker printing to the parcel or box. Customers will know they are getting boxes from a particular business by looking at the labels and stickers.
Seals look cool! Design custom stickers with brand identity seals used on envelopes and seal boxes. This will advertise your business and earn the trust and loyalty of your customers.
Design fun stickers for events & special occasions:
If you want to be surprised by your advertising strategy, create and distribute branded stickers for special events and occasions like weddings, new year, christmas, birthdays, expos, fairs, VIP events, Etc.
Use stickers on vehicles:
Make your business and personal vehicle a moving billboard that publicizes your business on the go. Put custom stickers on bikes, cars, doors, windows, bumpers, bonnets, dashboards and use large-sized stickers with bolder signs that attract eyeballs to promote your brand.
Gift stickers to your employers:
Create stickers for your employers, families and kids which help you to advertise your business. Giving "Employer of the Month" or "Best Employer" brand stickers will make your employers happy and love your business more. Unless a business does not love its employer then-employer doesn't love the company.
Use stickers on doors, windows and store floors:
If you own a retail store, then it's a terrific idea to promote your business to customers who visit. Create custom made stickers with an eye-catchy design on your windows, doors, store floors, tables, customized plates, glasses, napkins, Etc., to give a cheerful ambience to customers. Give free stuff with custom stickers when an event, birthday party, or wedding anniversary is in place.
These are the few ways to use custom sticker printing to promote your business. Istick is a print sticker company in Australia; experts produce stickers of all shapes and sizes, colours, fonts with instant pricing. Please share your idea with Istick; a friendly professional team helps you with your ideas come true. We will deliver the exact thing free all around Australia within time.