Home » Uncategorised »
Difference between Paper Stickers and Vinyl Stickers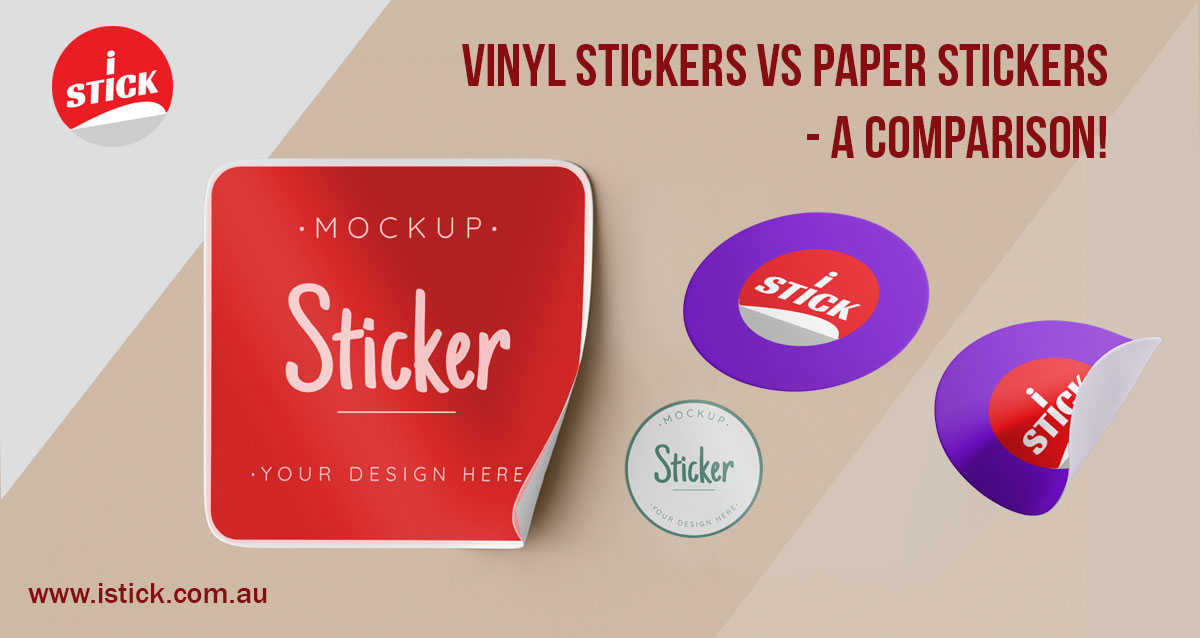 Stickers have great use in multiple industries, from food labels, promotional purposes, political campaigns, and children's stickers. The benefits are not limited to a small list, and choosing the stickers' material to make the right impact is crucial and significant.
The stickers can be made from multiple materials, including:
Paper
Polyester
Polypropylene
Industrial Vinyl
Recycled Labels
Satin Labels, & more.
The options, as mentioned earlier, are plenty. Here, we chose the two most popular sticker materials and comprehensively discussed them to understand their differences.
Paper stickers vs vinyl stickers are an ongoing discussion every time you think of getting your stickers printed for any number of reasons. Deciding between paper stickers and vinyl stickers is a big decision, and hence understanding the difference between vinyl vs paper stickers will ease the process. So, without further delays, let's jump into the discussion of paper stickers vs vinyl stickers for your next project!
As a paper and vinyl sticker printing Australian company, we are asked this question, and we decided to answer it and make it convenient for everyone with the same question. Let's begin to understand what paper stickers and vinyl stickers are made up of and more.
What are Paper Stickers?
Paper stickers are a cost-effective option and are made of a sheet of paper with an adhesive backing that can peel off before its application.
What are Vinyl Stickers?
Cut vinyl stickers are made up of PVC (Poly Vinyl Chloride), simply called vinyl, a recyclable plastic resin made from naturally available materials in crude oil and salt, ethylene and chloride, respectively.
The question of paper stickers vs vinyl stickers can start with the types of paper and vinyl stickers, their features, and when to use one over the other.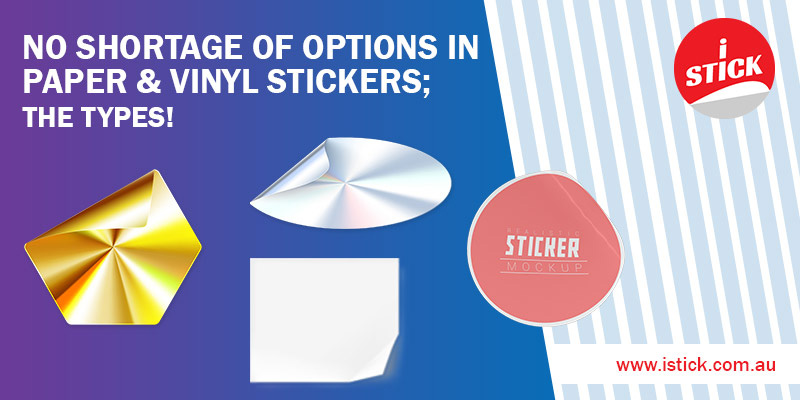 The Difference Between Paper Stickers and Vinyl Stickers.
Types of Paper Stickers Vs Vinyl Stickers.
Types of Paper Stickers
The paper stickers are available in matte or gloss finish and removable or permanent adhesive. Here are the types of paper stickers that most paper sticker printing Australian company provides:
Glossy Paper Stickers: Glossy paper stickers can handle slight water and outdoor exposure without fading and are sturdier than uncoated paper stickers.
Fluorescent Paper Stickers: These stickers can be used where higher visibility is required as they are glow-in-the-dark stickers. Most often used to grab immediate attention and offer instructions/warnings.
Uncoated Paper Stickers: The stickers have a high-quality finishing with a rougher surface. The uncoated paper stickers are easy to print and absorb ink easily.
Correction Paper Labels: It is cost-effective, spot-corrective, opaque, block out labels that can be used to hide or touch up outdated information and errors. It saves from reprinting a batch of stickers.
Types of Vinyl Stickers
The vinyl stickers are primarily used for promotional products and merchandising as it provides a high-end look for your brands. Vinyl stickers are waterproof, oil-proof, and are highly durable, able to withstand outdoor conditions for a long time.
Metallic Vinyl Stickers: You get a variety of metallic vinyl stickers, including mirrored gold vinyl, mirrored silver vinyl, gold metallic vinyl stickers, silver metallic vinyl stickers, gold brushed aluminium vinyl, and silver brushed aluminium vinyl, to name a few to cover your invitations, stationaries and products.
Clear Gloss/Matte Vinyl Stickers: Usually made to apply to glass or aluminium products, these stickers are sticky, transparent labels and provide the new "No label look".
White Matte/Gloss Vinyl: For products that might get wet, such as toiletries or personal care products in the bathroom or shower, including soaps, shampoo, perfumes, lotions, use these white matte/glossy vinyl stickers.
Features of Paper Stickers Vs Vinyl Stickers.
Features of Paper Stickers
Pros:
Made up of thin sheets of paper
Matte or Glossy finishing
Requires no lamination
Adds a distinctive look to packaged boxes and products.
Cons:
Not weather-resistant
Fade fast
High-maintenance
Easily damaged & vulnerable.
Features of Vinyl Stickers
Pros:
Weather-resistant
Easy maintenance
Long-lasting and durable
Meant for Outdoor/indoor use
Cons:
Non-decomposable; If not appropriately recycled or disposed of improperly through incineration, it creates an environmental issue.
Apart from the above apparent distinguished differences between paper stickers vs vinyl stickers, here are a few more honourable mentions:
Paper stickers are less expensive and produced in large rolls, while you get cut vinyl stickers.
However, the choice between paper stickers vs vinyl stickers depends on your needs. Before going for either one of them, it is advisable to discuss with a paper or vinyl sticker-printing services provider.
There is no shortage of custom vinyl sticker printing, Melbourne or anywhere else, as is the same for paper stickers. If you are looking for paper or custom vinyl stickers, an Australian company like us can provide quick turnarounds, creative sticker printing and high-quality paper stickers and vinyl stickers.
If you are still confused, let us bother about the difference between vinyl and paper stickers, and we will choose for you that best suits your project in an efficient, cost-effective manner.