Home » Uncategorised »
What are Custom Vinyl Stickers and Their Benefits?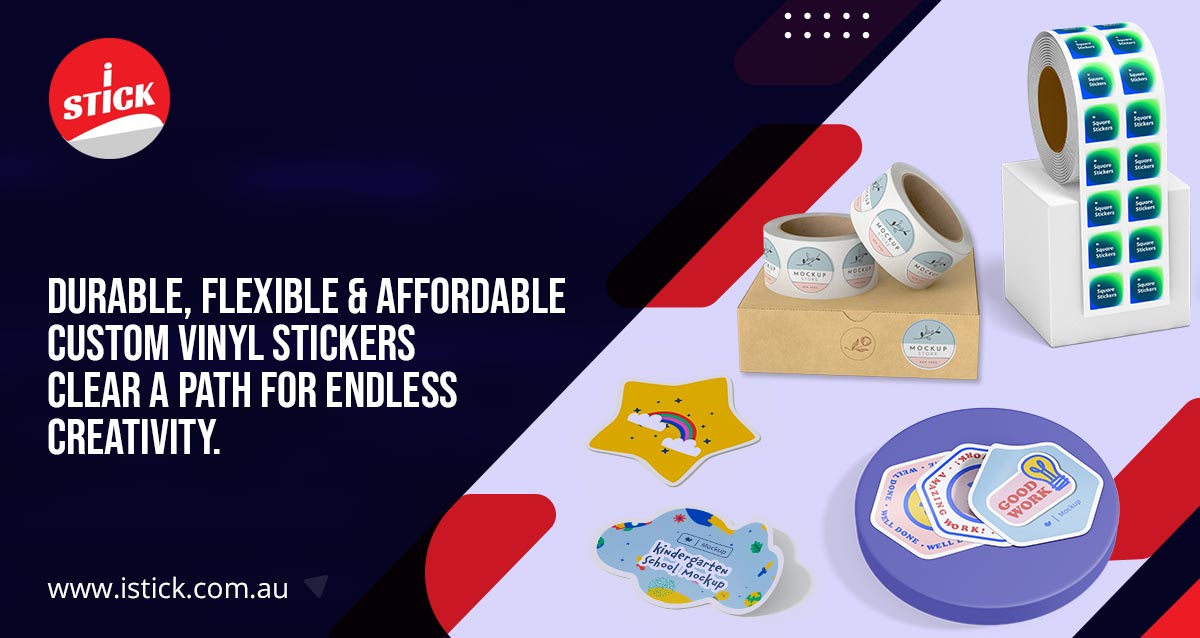 What are Custom Vinyl Stickers & Their Functionalities?
Vinyl stickers are wall decals cut with a vinyl cutting plotter. These vinyl stickers are customizable, and they can be produced in all sizes & cut in every possible shape. Also known as vinyl cut stickers.
Custom-made stickers can use to decorate any room, commercial use as a sign to advertise a business, service, brand, shop window, vehicles, and many more just by applying on glass, wall, or any smooth surface.
iStick produces custom vinyl stickers in Australia, printed from a durable white vinyl material known as PVC. We create top-notch vinyl cut stickers with adhesiveness & robustness, available in hundreds of colors & can last up to 5-10 years depending upon where they're applied.
Custom vinyl decals are an excellent way to advertise your brand. They attract an audience of onlookers & raise awareness of your business & services. You often see vinyl cut stickers on the counter at shops, bars, restaurants, storefront windows & on the floor of the malls because of their cost-effectiveness.
Get your customized stickers in Australia to withstand harsh weather conditions. They can maintain their original colors with durability for a more extended period rather than traditional advertising like paper stickers, flyers, postcards, or posters.
Where can you use custom vinyl decals & stickers?
Use on Storefront Windows & Doors
One of the most practical ways to attract eyeballs people passing by your store is to advertise your services or new products by sticking them on your doors, walls, and windows. Get custom sticker printing designed to any size, and shape with creative & bright colors & exciting shapes.
Another vital advantage of using custom vinyl  stickers & decals on your windows, storefront, walls, and doors is that it doesn't leave any sticky residue when you remove the stickers.
Use on Your Vehicles
As every Australian knows, climate can be unpredictable. Whether it is blistering sunshine during the summer or extreme cold, or heaps of snow in winter, we never know what mother nature throws at us. iStick produces customized stickers in Australia which are durable to withstand these climate conditions.
Custom vinyl stickers are stuck outside the car & they can withstand all weather conditions. Stickers are a fantastic option for business fleet vehicles that require company logos & contact information with vinyl sticker printing on vehicles.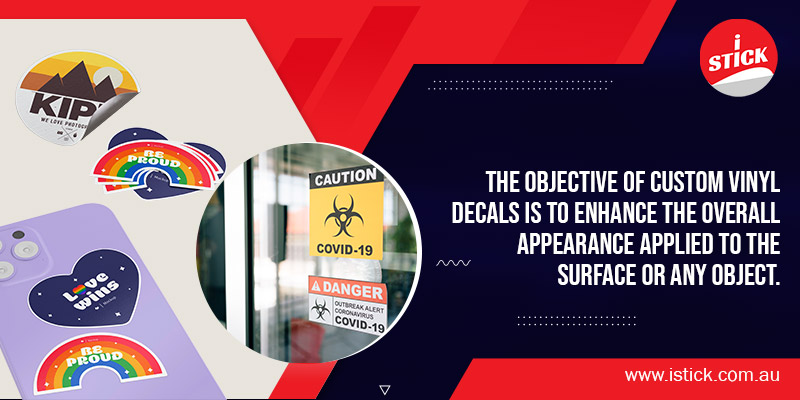 Use on Marine Boats & Equipments
Custom sticker printing is an effective way to advertise your marine boats & equipment to visitors. These surface types require custom vinyl stickers that are waterproof & scratch resistant. Therefore you cannot use paper stickers.
iStick produces the best custom vinyl decals in Australia suitable for harsh sea conditions. We recommend having custom vinyl decals to withstand strong tides & winds.
Use in Expos & Tradeshows
If you have attended any tradeshows or expos, the business will broadcast their products & services with attractive designs of stickers, decals, signboards, and banners to attract eyeballs.
Are you planning to have your booth at the upcoming expo? To grab the people's attention, use iStick vinyl cut stickers & decals to stand out from the crowd. And it's an excellent way to add standalone personality to your booth in a tradeshow or expo to gain leads for your business.
Use it on Food Packaging
Everyone orders food from a restaurant, and people notice how good is the food packaging. If people like the packaging, they will remember your brand for a long time. Get vinyl sticker printing on your food packaging that withstands cold & hot foods.
Paper stickers get damaged in humid & cold conditions, which make them look hideous & inappropriate for sale. Try iStick custom vinyl stickers in Australia to eliminate such problems & stand out from your competitors.
Amazing Benefits of Using Custom Vinyl Stickers
A custom vinyl sticker is fade, water, scratch & UV resistant & durable than stickers made of paper. You can easily place your customized sticker on public display space & have a long-lasting strategy to promote your product, event, or business.
Here's is a glimpse at the benefits of using custom vinyl stickers:
You can use a variety of stock finishes, including uncoated white, gold/silver matt, printable vinyl stock, freezer grade, SAV-3 large format, colored vinyl, and many more.
Custom vinyl decals can print & design as per your business requirements with any decal shape, color & size.
 Remove from smooth surfaces without leaving any sticky residue behind.
Vinyl sticker printing is a fast & swift process. Get professional stickers without letting them dry or waiting to finish any other print job.
It can maintain its original look in cold & hot conditions for a long time.
Vinyl stickers can resist moisture & humidity.
Vinyl stickers are UV, scratch, fade & water-resistant.
You can create custom vinyl decals with colorful & bright images.
Custom-made vinyl stickers are durable and affordable.
If you need custom vinyl stickers or decals & would like suggestions about which vinyl sticker is suitable for you, reach out to Istick today! Our friendly team would love to help you create the perfect vinyl sticker for your business or needs. Order your desired custom vinyl stickers and get free delivery all around Australia.