Home » bumper stickers »
What are the typical dimensions of standard bumper stickers?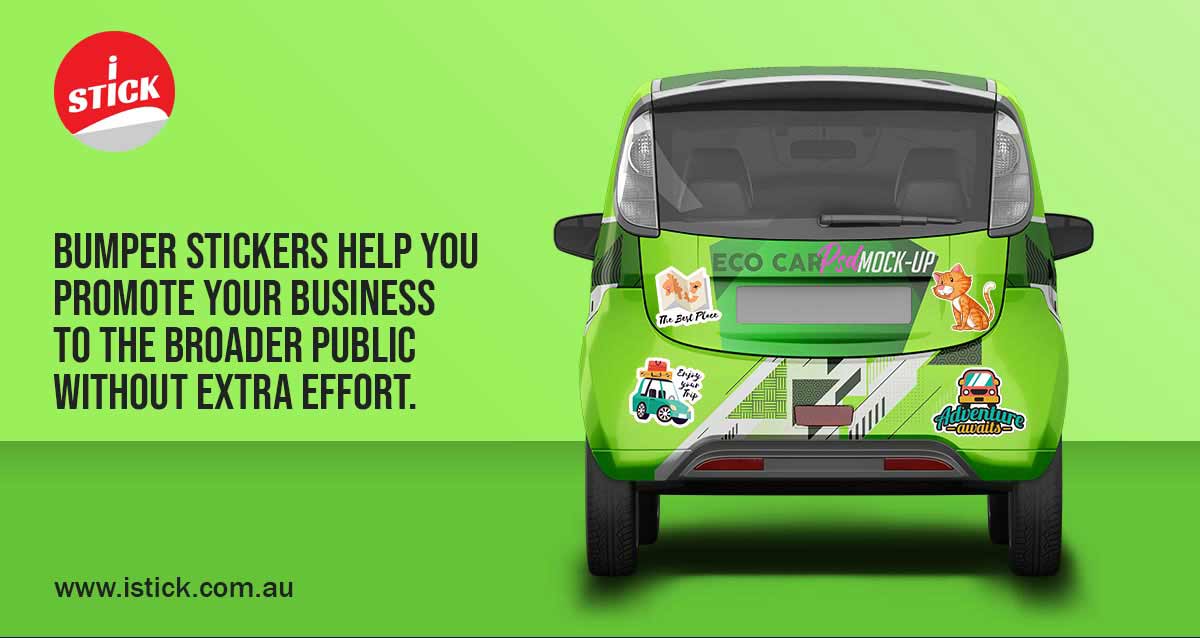 Bumper stickers are more than just a marketing tool & they are a cult masterpiece of pop culture. Stickers can withstand any harsh conditions because of their high-quality stock materials & best suited for outdoor use.
Our custom bumper stickers have decorated numerous automobile bumpers & windshields. As a result, they are the best option for any vehicle sticker application.
Nonetheless, bumper sticker printing is not limited to vehicles. You can use personalized stickers on bicycle frames, computers, file cabinets, office equipment, & luggage.
Standard bumper sticker size may vary on the usage intention of individuals. You will get an idea by glancing at our bumper stickers template online.
What is a Bumper Sticker?
Bumper stickers are messages printed on an adhesive sticker or vinyl applied to the bumper of a car, truck, or any vehicle & read by the drivers of other vehicles.
Bumper stickers are also often applied to other solid things. At Istick, we use standard stickers size dimensions, and they may vary according to your needs.
Istick offers different stock materials to create eye-catching designs that stand out in the crowd. You can also promote specific offers or services, eventually spreading the word to a vast customer base.
What are the Usual Dimensions of Bumper Stickers?
The simple answer is that there is no standard size for custom bumper stickers. There is no standard stock that people select for bumper stickers.
At Istick, we say our bumper sticker size are 144mm x 48mm, but this is more to maximize the number of prints on a sheet, so when it's cut down to that form, we can give you the fairest value.
Even it isn't standard. You would think they go onto big vehicles or cars from the name. Still, many times, people are just guiding to the shape of the sticker they are after, indicating that any elongated rectangle can be called a bumper sticker (and even then, it doesn't even have to be an ideal rectangle, at Istick, we can chop down to any shape you desire).
If you think of bumper sticker size like us, as a rectangle sticker printed on stock paper, you can get a bumper sticker size on any of our stocks. But if you need to use the bumper sticker outside, like on the bumper of a car, it will limit the range slightly.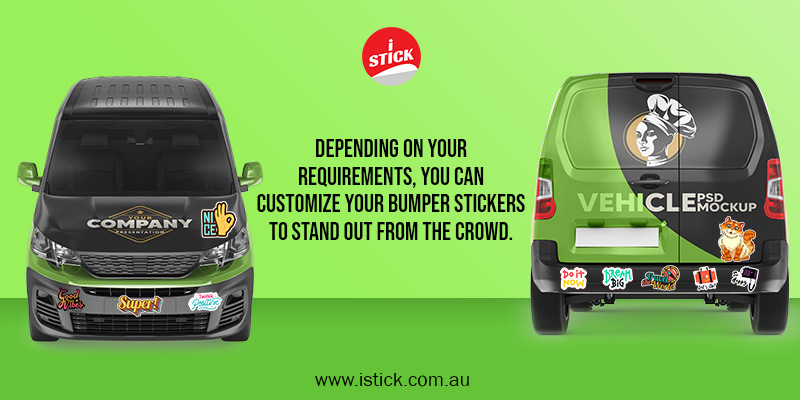 Every one of our stocks can be laminated with our UV laminate film, which will protect it from rain, scratches, and dirt and increase its durability.
It's safer to UV laminate with the vinyl sticker stock or synthetic film if you are after a more "traditional" standard bumper sticker size. Both will give a comparable result: the synthetic film will be slightly more durable, and the vinyl sticker stock will be slightly thicker.
What are the Essential Tips for Designing Bumper Stickers?
People have an excellent visual memory & if a person recognizes innovative & creative marketing elements, it gets stuck in their brain.
A person also remembers the company name or the ad campaign's services. The following essential tips will help you design unique bumper stickers to make your business viral.
Keep it Simple
Are you planning to add a message to your custom stickers? Experts recommend keeping it simple. You don't want to worry the audience trying to understand the meaning behind the message.
Avoid your bumper stickers from prolonged statements. Be specific, as people spend less time looking at your custom sticker than reading the message.
Provoke Curiosity
Audience is always curious to know the second half of a story or a quote. So, don't give away the whole message on your bumper sticker. Provoke curiosity among your competitors.
The message you are giving out on your bumper sticker printing can be straightforward yet fascinate people to visit your store or website to know more about your service or products.
Try Unique Shapes
Generally, the bumper sticker dimensions come in rectangle shapes. But, don't limit yourself to trying different shapes to stand out from the competitors.
Maybe you might spend an extra dollar, but it's worth trying. A unique shape & various bumper sticker size has a higher probability of standing out. You should try this if it suits the nature of the services offered by your company.
Use bold letters
The top essential tip is the font size of your bumper sticker printing. Make sure your bumper sticker is large enough & the headline should have the majority of the portion of the custom sticker.
Incorporate both uppercase & lowercase letters in the message to make it easy & visible to read. Use fonts such as Impact, Arial, Interstate, and much more.
Usage of Eye-catching colors
Use bright & vivid colors on your personalized stickers to get noticed from a long distance. Try using two or more contrasting colors to match each other.
Innovative companies still include bumper stickers in their campaigns to gain impressive visibility by choosing color combinations like yellow & black, white & blue, and much more.
If you are unsure what you are after, the best thing to do is to contact us & discuss your project, and we can help you towards the best finish, stock, finish, and size to get the best of your project with Istick. You can use the Istick online quote to get an instant price. We deliver all around Australia.