Home » bumper stickers »
The Art of Bumper Stickers: Turning Cars into Personal Billboards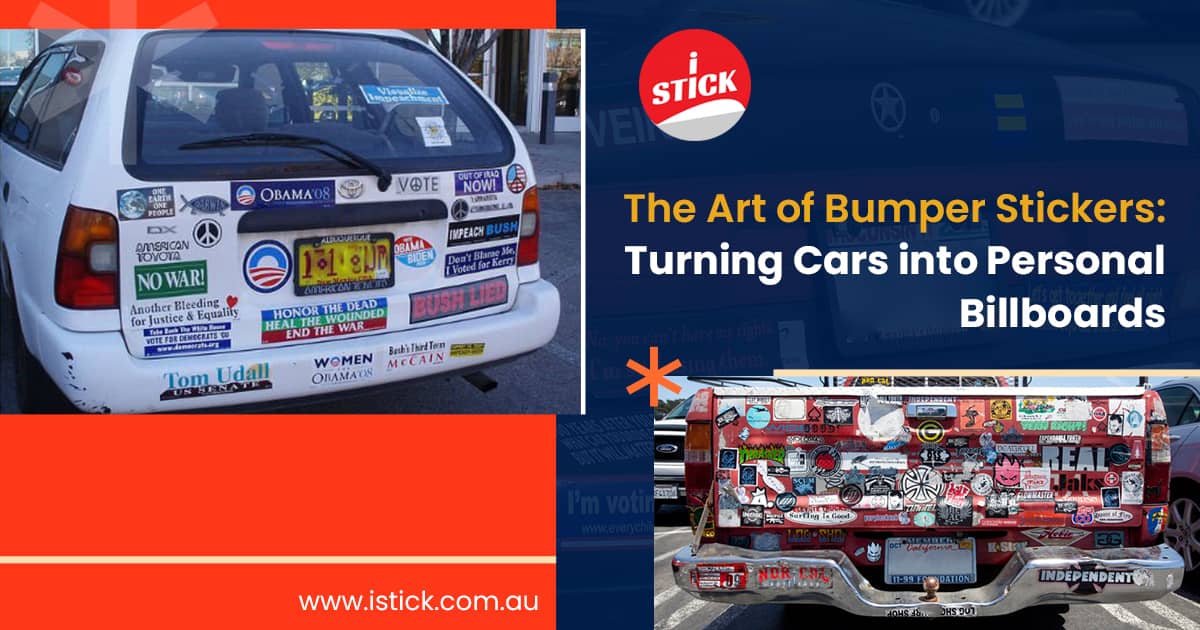 Bumper stickers are basically a moving promotion. They allow individuals to express their beliefs through custom messages, advertisements. Despite their size, color, and creativity, bumper stickers are literally used everywhere.
Don't you want to know why this is so popular? How do you use it for your brand? Fret not; that's why you have Istick to tell you all about that and this blog is the one you have been searching for.
What are Bumper Stickers and How it Started?
Before knowing the history, let's start from the roots. Basically, bumper stickers are a customized moving promotional tool that has a great impact on customers. They are called in different names, such as car decals, car stickers, and promotional decal label signs. Bumper stickers are adhesive backed stickers that are usually attached to the bumpers of cars and trucks. It often delivers a message, slogan, personal and political view, or is even used as a promotional tool that gives a wide exposure.
History of Bumper Stickers
Bumper stickers have a long history that dates back to the early twentieth century. They first became popular in the United States in the 1920s and 1930s. They were often utilized for promotional purposes back then, with companies and political campaigns employing them to promote their products and politicians.
However, bumper stickers did not fully become a medium of personal expression until the 1960s and 1970s. Bumper stickers were utilized to express social and political themes during this time period. They provided a vehicle for people to express themselves on a variety of subjects, including civil rights, anti-war rallies, and environmental protection.
Later on, everyone began using bumper stickers as a customized form of communication of social views, jokes, and sarcasm, which was a total attention magnet and head turning promotional tool.
Size and Materials Guide for Bumper Stickers
Size Matters
Standard and Custom sizes
Small: The standard size is 3×10 inches; the custom size is 2×6 inches.
Medium: The standard size is 3×11 inches; the custom size is 4×12 inches.
Large: The standard size is 4×15 inches; the custom size is 5×18 inches.
Custom sizes depend totally on the shape and design, but these are just the basic sizes.
Perfect Material
Vinyl: Very durable, suitable for all weather types.
Paper: Thin and versatile material.
Polyester: Strong and synthetic fabric.
Lamination: It's protective layer or coating.
Steps to Custom Your Bumper Stickers
Plan your Design
Pick the perfect shape and size
Choose Premium Quality Materials
Contact the best Printing Service
Review the Result
Place your order
Key Significance of Bumper Stickers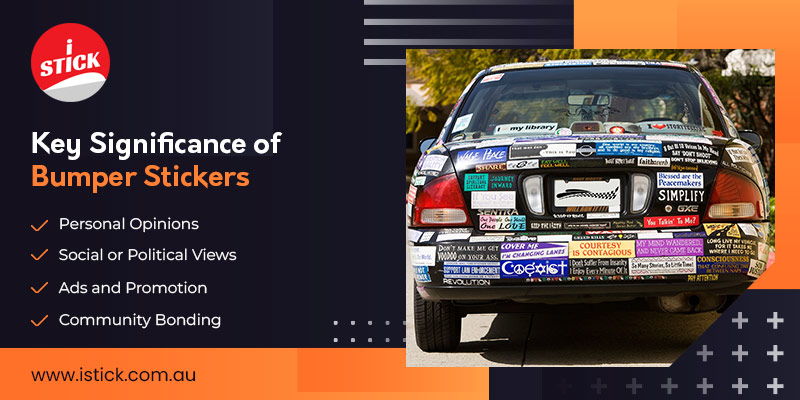 The main purpose of bumper stickers is to convey a message, slogan, opinion, joke, or personal and social views in an attention-grabbing way. Here are some reasons why you should consider bumper stickers as your primary promotion tool:
Personal Opinions
Bumper stickers help to deliver unique personalities and interests and make connections. They make way for a creative opportunity for self expression, whether it's a hilarious quote, a favorite brand logo or a message about a cause.
Social or Political Views
Even today, bumper stickers play a vital role in social and political events. You can see them during elections; cars would have attached various candidate's photos or logos and causes with bumper stickers as a form of support. These creative stickers can spark conversation and social engagement.
Ads and Promotion
Businesses use bumper stickers as an inexpensive form of promotion. Custom bumper stickers, including a company's logo and contact information, will turn every car on the road into a potential billboard, reaching millions of people.
Community Bonding
Bumper stickers often spark a conversation between like minded people. So when they see a car with a bumper sticker of the sharing interest, it boosts communication and motivates them to form a new community on that topic. This topic can also be your brand.
Conclusion
Bumper stickers have evolved from basic promotional tools to effective means of self-expression, political criticism, and advertising. They have a long history and are culturally and socially significant in Australia and across the world.
Individuals and companies may use customized bumper stickers to transform their vehicles into personal billboards and reach a large audience. Prioritize customizing possibilities, high-quality printing, weather durability, UV protection, adhesive quality, and cost-effectiveness when shopping for huge bumper stickers in Australia.
Whether you're thinking of conveying a mind striking message, trying to make a strong statement, promoting your business, or supporting a cause through bumper stickers, then Istick is all you need. We will offer you an impactful and versatile approach to communicate with the world from the back of a car.
As we have 20 years of expertise, we are the best in Australia, and we offer all sticker printing services at an affordable price. Istick is more interested in creativity and customer satisfaction. That's why our team of experts will guide you through the entire process and make it simple for you.
Transform your ideas into bumper stickers with us!!