Home » sticker printing »
The Evolution of Car Stickers: From Bumper Stickers to Custom Decals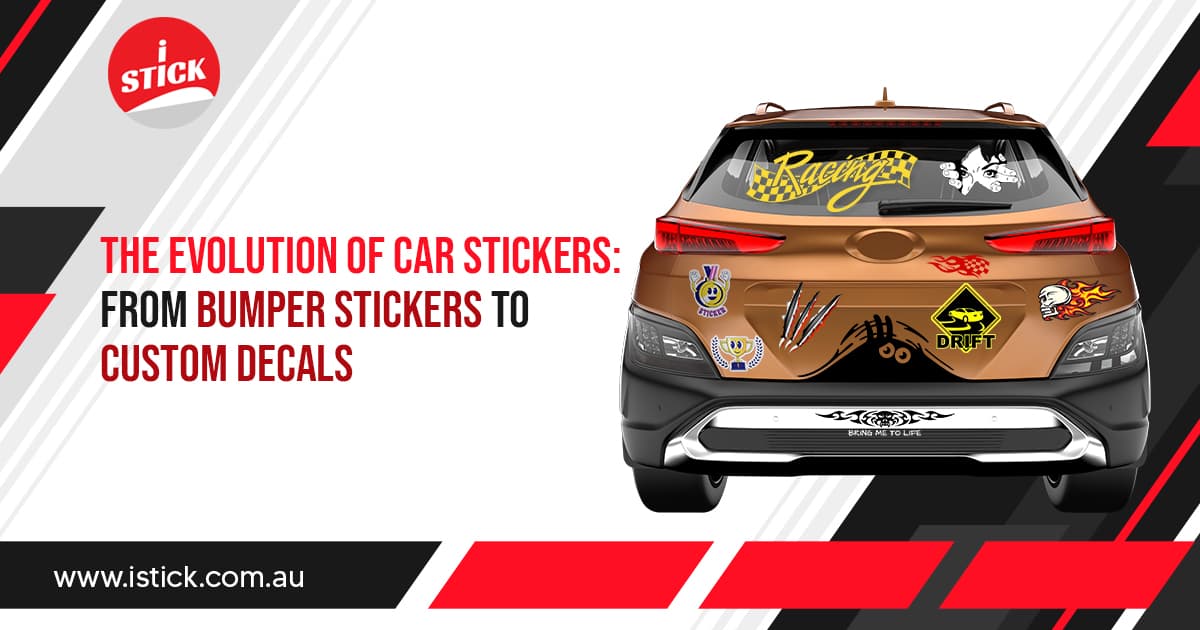 Car stickers has a long and exciting history. It originally started with simplistic bumper stickers and is now widely used as custom decals. Car stickers were always used as a medium of expression that augmented people's personality, beliefs or indicated their good taste. The emphasis is on external appearance, whether it is an activist supporting a specific political or ethical cause or anyone making a hilarious statement by placing a humorous sticker on his bumper.
Car stickers have been around for decades, and the trend shows no sign of slowing down. Let us dig a piece of their history and understand how it all evolved.
The History of Bumper Stickers
Before the invention of cars, people were promoting on buggies or horses with a cardboard or by just sticking a piece of paper. Vehicles were used as a mode of advertising before the 1900s.
For bumper stickers to come into existence, cars needed bumpers. It was surprising back then that cars did not have this safety feature. Ford introduced its new Model A car with a bumper in 1927. People advertised by hanging cardboard signs from their bumpers with rope and string. This cardboard did not last long because it was easily damaged by wind, dust, rain, or snow. People needed a durable medium to promote their cause, and thus bumper stickers were created.
Forrest P. Gill of Kansas City, Missouri, invented the first car bumper stickers. He made bumper stickers with a combination of adhesive back paper and fluorescent colour paint. It was actually referred to as a bumper strip.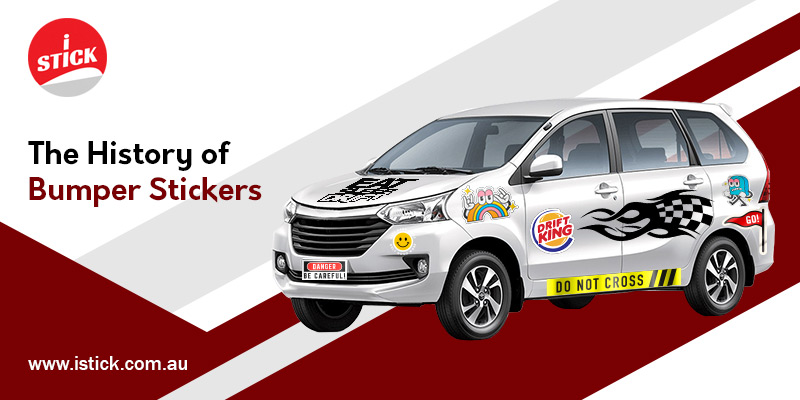 The First Commercial Use
The tourism industry was the first to capitalise on the advantages of car stickers. As people visited amusement parks, tourist attractions, or resorts, hotel employees would place property stickers on car bumpers in the parking lot. This served as a strategy to promote their place, and people were excited to show that they had visited the location. People soon became the brand ambassadors of that property.
The political sector was the next to leverage on the benefits of bumper stickers. During the twentieth century, bumper stickers were designed to support a political party, a cause, or even the candidate's name. They became so popular that custom car stickers are still used for political advertising even today. ⁠⁠⁠⁠⁠⁠⁠
Political Punchlines
The first bumper stickers appeared in the 1920s and were used to promote products like Lucky Strike cigarettes and Coca-Cola. It was not until World War II that bumper stickers became popular for political purposes.
President Franklin Roosevelt re-elected in 1936 with the slogan "I Like Ike," which was also used by Dwight Eisenhower in 1952. During this era, presidential candidates often had their slogans printed on bumper stickers or car flags to show support for their campaigns.
Car labels began as simple political propaganda, but quickly evolved into something much more complex. In 1920, John F. Kennedy ran for Congress in Massachusetts and won with his "Sunrise-to-Sunset" campaign slogan. This caused Kennedy to win by 7,000 votes, which was enough for him to get elected to Congress in 1928 and then eventually become president in 1960 – all because of a simple bumper sticker!
The 90s: Rise of Vinyl Decals
Decals have existed for a long time now. They were used as early as the 1920s to make temporary logos for companies, but it wasn't until the 1990s that they became more than just a novelty.
The rise of decals can be attributed to their affordability and ease of application. They were also popularized by the custom car culture movement, which saw people taking their cars to shops and having elaborate designs painted onto their vehicles.
In 1992, eight years after the invention of window tinting technology by 3M Corporation, Ford Motor Company began offering it as an option on some models. It was an instant hit with consumers and soon became available on other makes and models as well.
Digital Sticker Printing: Vinyl Car Decals
As the world turned increasingly digital, so did the Vinyl Car Decals. With the advances in technology, vinyl decals came with different colours and size enabling companies to produce unique designs reflecting their brand identity.
Custom Vinyl Decals are more robust than paper or plastic stickers as they are made from high quality and durable material called Polyvinyl chloride (PVC). They do not get peeled off like normal stickers or get warped off due to extreme heat. They are waterproof and reusable as well.
Conclusion
If you are wondering where to get custom bumper stickers for your car, look no further than iStick. We have high quality stickers made from weather resistant and highly durable materials that will help the stickers last them for years.
You can choose stickers from a wide variety of sizes, colors and designs. You can select any pre template design or can even get them designed from the scratch. iStick helps you design the apt sticker according to your needs. With us, you can be rest assured that custom vinyl car decals are sure to make a statement.