Home » sticker printing »
Why Istick is The Ultimate Sticker Printing Partner For Your Business?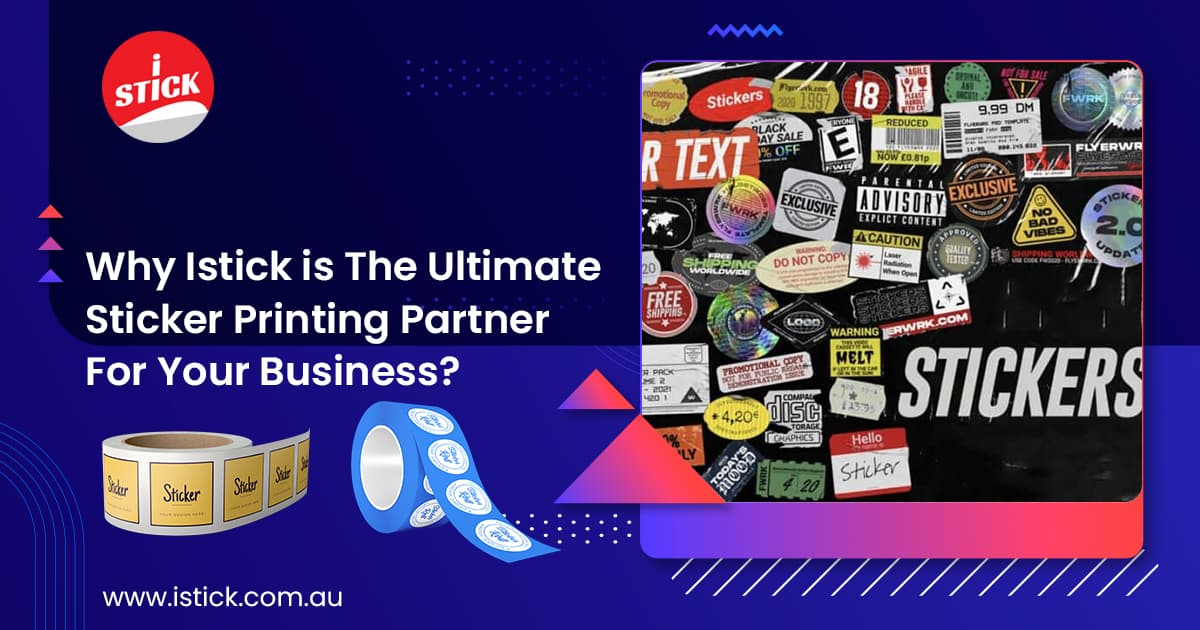 Istick is a printing company in Australia that offers sticker printing services. Printing stickers with us is simple, fast and cost-effective. Plus we offer a wide range of customization options with different sizes, shapes, colors, and fonts. You can print any type of sticker with us because we use the latest technologies to ensure accurate cutting and high-quality printing.
So if you're someone who wants to create custom stickers and take your business to another level then Istick is the best choice. In this blog, we will give you five valid reasons why Istick is the best sticker maker in Australia.
Why is it Important to Choose the Best Sticker Maker in Australia?
It is crucial to select the best sticker printing service in Australia, as only the best can provide you with high-quality sticker printing services, such as Istick. Here are the key reasons why choosing Istick is important for the success of your business
We never compromise on the quality of the final product.
Our main goal is to boost the identity and reputation of your brand.
We ensure our stickers are of premium quality so that it's durable and last longer.
We make sure that our stickers meet the legal requirements and standards.
Another major reason is we offer timely and free shipping throughout Australia.
What is Sticker Advertising?
Creative Promotional tool:

Stickers are always a creative and fun way to promote your brand because everyone loves stickers. Stickers can be placed anywhere from the windows of a storefront to phone case covers and water bottles. There's no limit to your creativity when it comes to sticker marketing.

Brand Exposure:

When your branded sticker is placed on a car window or window of a store or anywhere, it automatically turns into a promotional tool. Using it for displaying brand logos, slogans or taglines can bring attention to the sticker and can boost the visibility of your brand.

Engaging and Interactive tool:

Well-designed and strategically placed stickers by professionals can help you spark conversations with mutual interest people and can help you find potential customers. Which results in spreading brand awareness.

Long-lasting Impact on Customers:

Stickers usually have a longer lifespan compared to other promotional tools and they often create a strong impact in the customer market, which leads to an increase in brand awareness and brand recall.
Advantages of Istick Sticker Printing Services
Here are 5 reasons why Istick is the best sticker maker and why you should choose us for the growth of your business: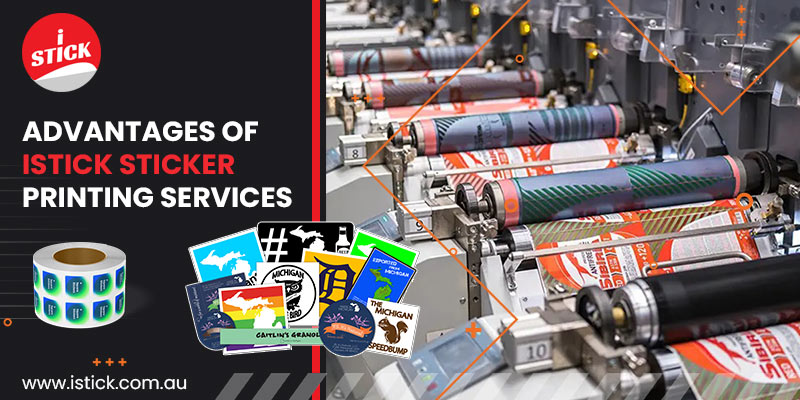 Cost Effectiveness
Istick offers all kinds of sticker printing services at an affordable price. That is why working with a sticker partner can be much better and more cost-effective than trying to print the stickers in-house because we know what's best for you and how to deliver them in the best way for you.
Premium Quality Materials
We use only high-quality materials for sticker printing because we know low-quality materials can ruin your brand's reputation as well as ours. As a sticker maker, we focus more on quality, durability, and long-lasting experience. Our commitment to using the finest materials ensures that your stickers withstand all harsh weather conditions and maintain their integrity.
Freedom of Customization
Every business is unique, and so are their needs, requirements, and preferences. Istick understands your requirements and offers a wide range of customization that can make your brand stand out from the crowd. Whether you need unique shapes in different sizes, or different shapes in various colors; Istick has got you covered with a million options.
High-Quality Printing
We use new and improved technology to ensure the stickers are precisely cut and print crystal clear stickers in it's the highest quality. Our main goal is to ensure that you get stickers of premium quality that last for a long time in low maintenance and boost your brand exposure to a wider range of audiences.
Quick Delivery
Time is money and that's why timely delivery is one of our major highlights. With our efficient process and simplified operations, we offer quick turnaround times without compromising the quality of the final product.
Planet Friendly Practices
As Istick offers the best sticker printing services in Australia, we are also committed to using recyclable printing materials whenever possible. By choosing Istick as your printing partner, you not only promote your brand; but you also contribute to saving the environment.
Final Thoughts
In this harsh competitive world and ever-changing marketing techniques, having a trustworthy partner for your sticker printing needs is crucial for developing a strong brand identity and leaving a lasting impression on your target audience. iStick is the height of perfection in sticker printing services, providing companies around Australia with unrivaled quality, customization possibilities, and dedicated support.
With its cutting-edge technology, dedication to customer satisfaction, and enthusiasm for producing extraordinary outcomes, iStick is the best sticker maker in Australia and a perfect choice for businesses seeking to improve their brand presence with eye-catching, high-quality stickers that create a lasting impact.
Istick has 20 years of expertise and that's why we offer the best sticker printing in Australia. Our team of experts will analyze your brand and understand its requirements to thrive in the market. Then according to your brand, our team will unleash all the perfect strategies that are suitable for your business.
With Istick transform your dream vision into catchy and eye-attractiving stickers. Boost your brand with the best sticker printing services!