Home » sticker printing »
Benefits of vinyl sticker printing? Which option is right for you?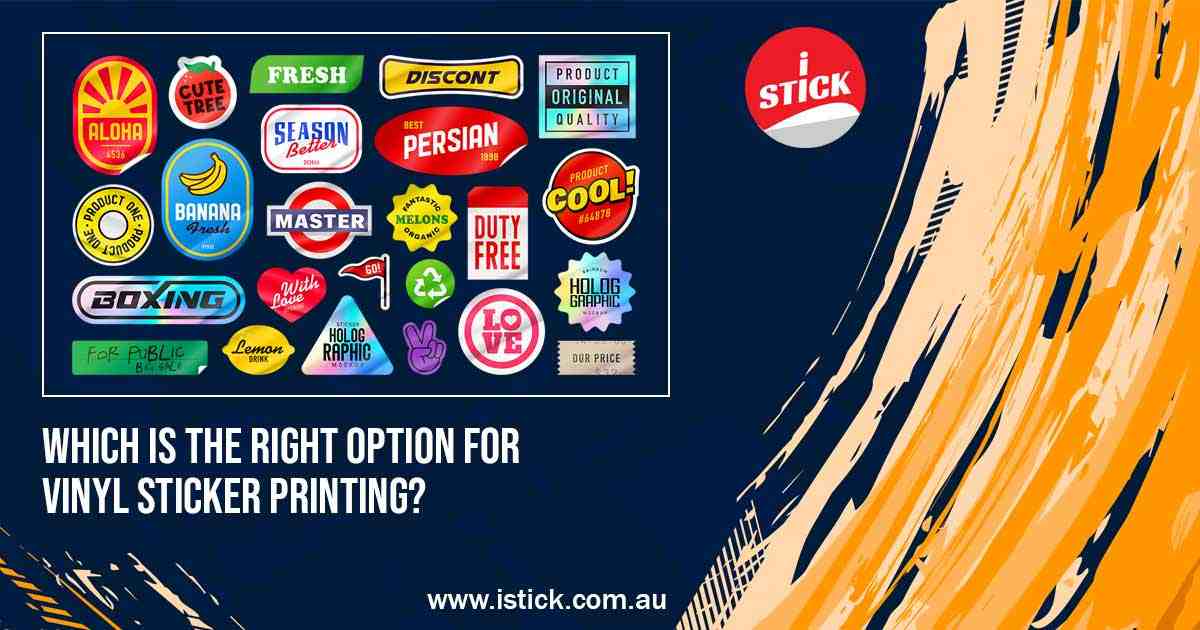 Vinyl stickers are more robust and durable than stickers made from paper. Custom vinyl stickers are tear, water, UV, scratch, fade-resistant, and high-quality adhesiveness. Vinyl decals and stickers are suitable for outdoor use on various public displays to advertise your service, products, or business.
A synthetic and resilient plastic creates vinyl stickers with chlorine and ethylene, technically called "polyvinyl chloride resin" or simply "vinyl."
The cut vinyl is often used on windows, storefront displays, and vehicle displays. The lettering and vinyl decals are simply peeling off the back of a custom sticker and sticking on glass, walls, or solid or outside-in surfaces.
But have you wondered how vinyl stickers are an unbeatable investment for your business needs? Let us look at the best custom sticker option for your business and the benefits of vinyl sticker printing.
Various Benefits of Vinyl Sticker Printing
Flawless Details
With the evolved printing technology, vinyl sticker printing allows you to print any size and shape as per your business requirements with accurate details. Sharp line details, photo-quality printing, and excellent color reproduction send a strong message about your enterprise at competive prices.
Long-lasting and Durable
Istick produces premium custom vinyl stickers in Australia, and also it speaks for an exceptional value for money due to their long-lasting, robust, and high durability. Custom vinyl stickers are best suited for outdoor and indoor use without losing their shine and withstand harsh weather conditions.
Endless Sized and Shapes
You get an exceptional advantage when you choose a vinyl sticker which is the customization of the size and shape of the stickers. You can easily create a design that differentiates your brand or product from the competitors. It also has limitless scope regarding the size and shape of the custom stickers you print.
Quick and Easy Application
Vinyl sticker is a fast and straightforward application for advertising materials to position in place. If you are decorating a storefront, window, or door, it is easy with custom vinyl stickers that can be applied and removed, making them a popular choice. Istick produces top-notch vinyl stickers in Australia with materials that leave no slight or sticky residue behind.
Products Labeling
Custom vinyl stickers with high-quality stock and adhesive can make an accessible, affordable, and attractive alternative to standard product labeling methods. Talk to Istick designers to create custom vinyl stickers in Australia to design the ideal labels for your unique products and apply them in your desired place, and you are good to go.
Mobile Commercial
One of the expected benefits of using custom vinyl stickers from a business perspective is financing affordable mobile commercials or advertising. Vinyl decals are ideal for taking the show on the road by sticking your promotional stickers on vans, cars, company scooters, and vehicles for a cost-effective mobile promotional campaign.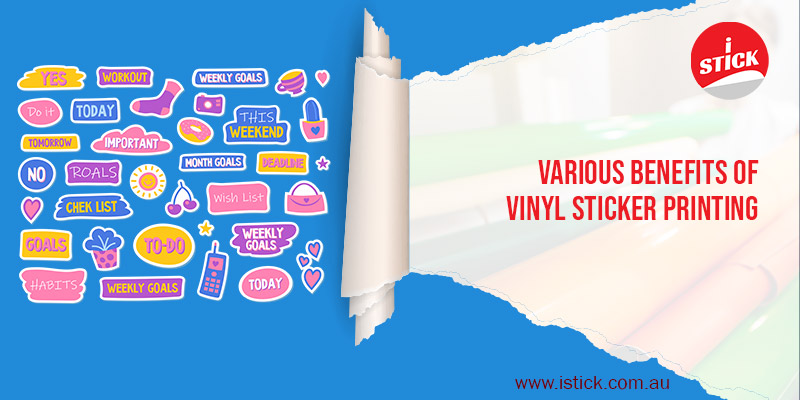 Know Which Vinyl Sticker Printing is the Best Choice For Your Business
If you search the internet, you will get multiple vinyl sticker choices that suit your business. Still, let's discuss some of the most widespread options below.
Clear Vinyl Labels and Stickers
The clear vinyl sticker has an invisible effect with variation, and these come with customization and are tear-proof. Clear vinyl stickers and labels come in transparent with no color background, and you can add a white base to add color to create a logo or label. Clear vinyl stickers are popular for brands and businesses who value their aesthetics.
3-Year Large Format Vinyl Stickers
Istick's 3-year large-format self-adhesive vinyl stickers are incredibly versatile, long-lasting, and cost-effective. This vinyl stock provides an extra secure adhesive on a flat surface for three years on steel, glass, aluminum, and melamine.
Fluros and Coloured Vinyl Stock
Do you need your stickers to stand out and grab attention? Then try fluros stickers stocks that come in numerous colors to capitalize on orange, green, pink, yellow, and more. The colored vinyl stock comes in 80 available ranges in any size and shape as per your needs. Suitable for outdoor and indoor use, famous for promoting campaigns to grab customers' attention.
Matt Silver or Gold and White or Uncoated White Vinyl Stock
Are you looking for custom vinyl sticker printing that shines out? Istick creates top-notch vinyl stickers in Australia with silver and gold matt finishes that are luxurious and attention-grabbing. If you feel that's not enough, try our brilliant white or uncoated white to send quality and elegance with your vinyl decals, stickers, and labels.
UV, Water, and Scratch Resistant
All our custom sticker printing is produced on a printing press with dry ink to obtain full-color images that are rugged and durable. Also, we create custom vinyl stickers in Australia that resist harsh Australian weather conditions because our stickers are laminated and affixed to create scratch, UV, and water stickers depending on the stock.
Istick creates high-quality vinyl stickers in Australia, and it's a trusted brand for large corporate clients to small local businesses due to the cost-effective prices. Custom vinyl printing is the staple product for generations for advertising your products with flexibility and durability. Contact us today to create your desired stickers as per your needs with limitless creativity.