Home » sticker printing »
Uses of Custom Vinyl Sticker for Your Small Business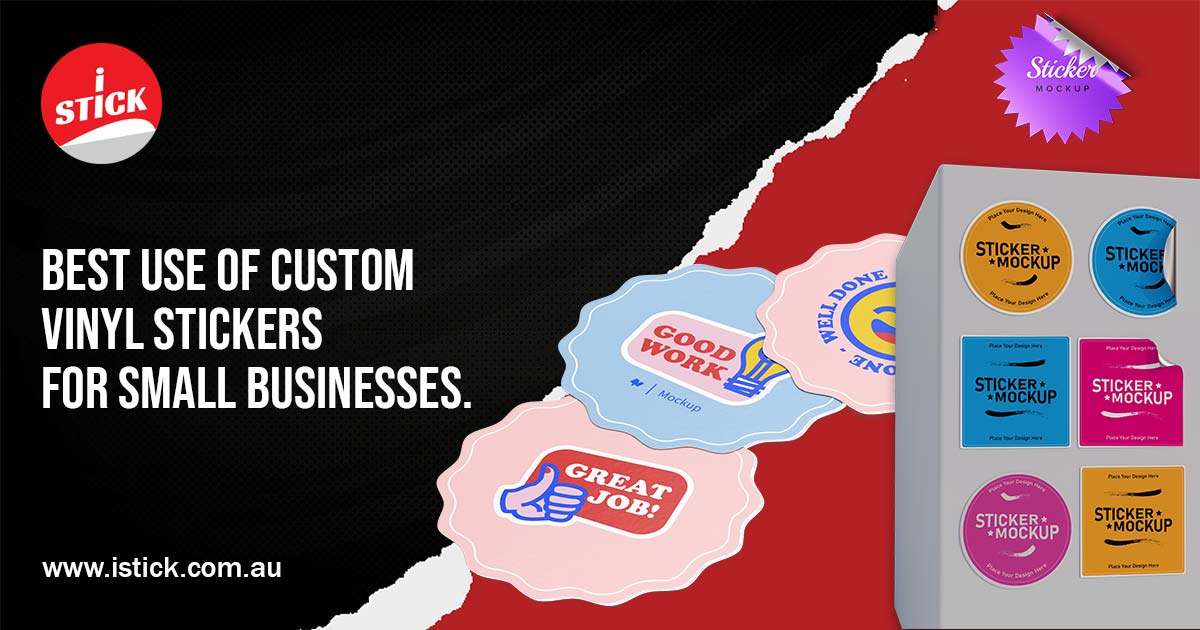 Are you looking for your small business to get noticed? Custom vinyl stickers are an excellent way to promote your business, and they come in all sizes and shapes with full-color designs.
Custom vinyl stickers can easily affix anywhere on a flat surface to express your business values. Even if you are a small business owner and haven't taken advantage of this incredible promoting technique, you should start today.
Many companies offer sticker marketing that could reach a wide range of audiences and increase brand awareness for your small-scale business at affordable costs. Here in Istick, we provide sticker service for small businesses that fit your company's marketing technique and brand identity.
Istick produces non-permeable custom vinyl stickers in Australia, applied on smooth surfaces like watercraft, windows, walls, doors, billboards, gifts, and furniture, to name a few, and can also be removed without leaving any residue behind.
Here are the uses of custom vinyl stickers that you might want to consider if you have a small business.
Best Uses of Custom Vinyl Stickers for Small Business
Vehicles Door Stickers
An attractive custom vinyl sticker can attract eyeballs from a long distance by keeping your customers interested. If you need your targetted customer to remember your business at the initial meeting, create attractive vinyl stickers with high-quality designs, stock materials, colors, and strong adhesive.
If you are a small business and need to promote your service, then use custom vinyl stickers as business cards and print them on vehicle doors so people can see them wherever you go. These garage door business cards are long-lasting and waterproof, giving you a professional look for business.
Signage and Directions
Custom vinyl stickers are scratch, water, and UV resistant, making them ideal for road signs and directions. Signage companies and construction companies can benefit a lot by adopting caution signs are direction signs to the people who are passing by to ensure safety.
Istick creates top-notch custom stickers in Australia suitable for hard hats. These hard hats are primarily used in the mining industry and construction sites to provide safety for workers. We can print hazardous safety stickers with reflective vinyl to stay safe for workers underground.
Storefront Lettering
A storefront is the most important place to showcase your services if you have a business. Whether you have a large factory or a small boutique, your storefront needs to an extensive vinyl lettering sign for your clients to show how professional you are.
An ideally cut vinyl lettering or a sign is an affordable way to add elegance to your property. If you want to invite more customers to your clothes shop or food stall, design something unique or use a simple classic look lettering sign to attract eyeballs to your storefront.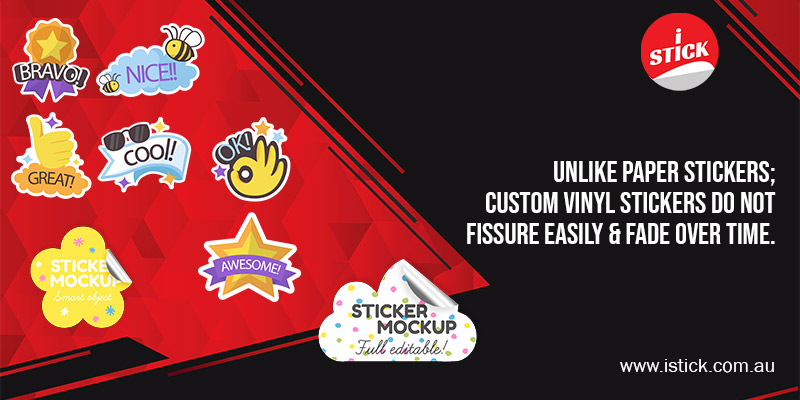 Floor and Wall Graphics of All Sizes
Vinyl wall and floor graphics can take the existing space of your building to improve your brand image and strengthen your message. Create large vinyl stickers ranging from bold wall decals to large format banner printing.
Istick creates large format custom vinyl stickers in Australia by adding your service or company logo to the wall can create a vibe that customer loves. Wall and floor signs are the best way to give directions in big malls and stores.
Products Packaging
Do you like robust packaging with designs on your product or plain brown-colored packaging typical in gift shops? Much like your storefront, to leave a good impression on your potential customers, you need to have good packaging for your products. Creative and customized labels or stickers can spice up your packaging with a brand logo.
A sticker or a roll label is a cost-effective way to order in bulk, or you can customize the shape, color, design, and size and use your logo or artwork to impact how customers perceive your brand. Istick produces custom stickers in Australia for packaging, including bottle labels, wine labels, and jars, to name a few.
Types of Equipment
If you have a small business but with more equipment out in the open, apply custom vinyl stickers with logos on glass tables, cash registers, counters, recycle bins, fridges, desks, TVs, and laptops.
An authentic sticker printing company like Istick can create customized vinyl designs that act as mini advertisements using various types of equipment to get as fancy and detailed. These little stickers can stick in customers' minds while adding vivid colors and decoration to the room.
Custom vinyl sticker printing is a great tool to add your business marketing ordnance. Istick creates custom vinyl stickers in Australia with durability and ease of use, allowing you to choose the style, image, and colors to reach a wider audience than digital marketing alone.
With great creativity, you can start any small or big business with custom vinyl stickers that go viral across your targetted customer base. Contact us today to get it done today!