Home » sticker printing »
Guide to Select Right Sticker Labels for Your Products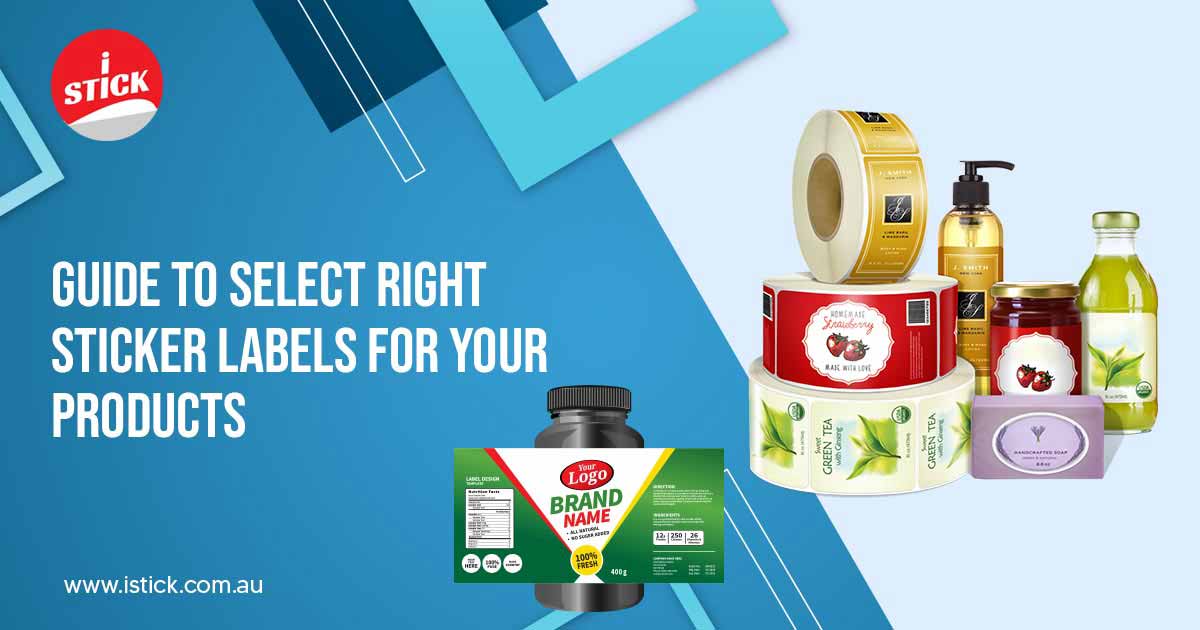 Choosing the appropriate product stickers is essential for effective marketing. Sticker labels often are overlooked, but they are a vital part of branding, storytelling, and product identification.
Consumers have no idea about the product's composition, health benefits, components, flavours, etc., without the label. Based on crucial pieces of information, the printed information on the label may affect the consumer's decision to make a purchase.
Various types of labels
To help you make the best choice, you should be aware of the many label types. Sticker labels can be categorised as grade labels, brand labels, descriptive labels, or instructive labels.
In addition to the brand name, product labels also include crucial information, including nutrition facts, shelf life, and safe handling procedures.
Furthermore, not all labels have the typical square-cut, one-sided shape. Some of the various types of labels include.
Reseal labels
Dry peel labels
Pressure-sensitive labels
Fold-out labelsShrink sleeve labels
Specialty die-cut labels
Prime labels
Different formats of labels
Printable sheet labels
Printable sheet labels are ideal if you only need a few labels or want to experiment with your label designs on various boxes or containers. For seasonal products, printable sheet labels are also a good choice. Sheet labels that can be printed off on demand are convenient to save and store.
Custom sheet labels
When printing your own labels, you may need a premium appearance that only professionally printed labels can provide. Custom labels are of more use here.
Professional printers will typically use more robust materials, better ink quality, and superior finishes when creating personalised labels. They will also use less ink usage and less printing time.
Custom roll labels
If your business is booming and you require big orders or a fast way to apply your labels, it's time for you to switch to custom roll labels. Roll labels are a cost-effective solution to acquire large quantities of labels and stickers to help save expenses.
They are highly popular with companies that require longer runs or that have big budgets for sticker printing. The additional selection of forms, sizes, and finishes that roll labels offer over custom sheet labels is a significant advantage.
Checklist for sticker label design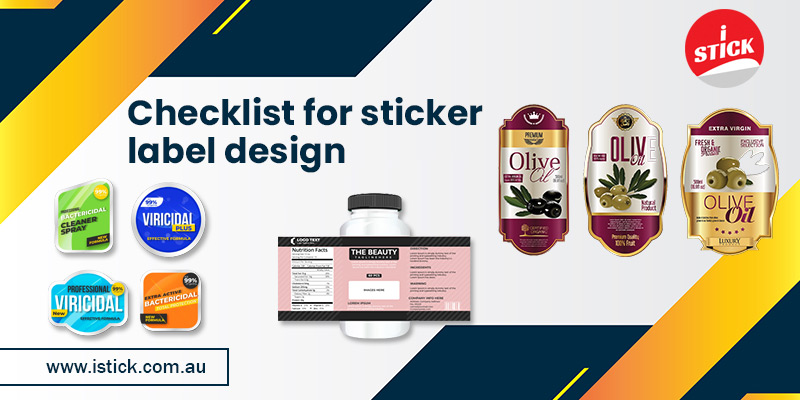 If you are finding it difficult to choose the correct label for your product, then here's the checklist for you:
Choose what should be on your label
You must decide what information you must include before beginning to develop your label. Consider the intended usage of the label. Will it be on a product? or to brand the packaging? or for sending packages?
Decide on a label size
Custom labels size will depend on the purpose for which you need it. To provide a final touch to smaller things, a smaller size makes sense for packaging and shipment. The ideal size for your company's address to appear on an envelope in a clear manner is using it on the return address label.
If you are making product labels, you may likely want something a little bigger so that buyers can easily read it. But this also depends on the size of the goods.
Choose a shape
The shape of your label should match your brand and purpose. Custom stickers of square and rectangular shapes can provide a bit more room. But ultimately, it should come down to what complements your logo and design the best.
A circle or oval may fit the brand's image better than a typical rectangle for some people. Some people's designs will stand out more with a squared edge.
Select the right finish or material
You must decide on a finish and a material type after developing the design for sticker printing. The label's overall appearance will be impacted by this. When selecting your finish, keep in mind a few other factors besides what best represents your company.
Is water resistance required for your label?
Will a dry surface be used to attach your labels?
What is your aesthetics?
Check Information including barcodes
Printing any data that will be scanned, notably barcodes, may require using a mid- to high-quality custom label. Labels printing of low quality will have a higher chance of smudging, fading, and becoming unreadable, which can slow down or even stop operations.
Consider the regulation requirements
Next, be conscious of any labelling laws and regulations that may apply to your products. For manufacturers of food, there are rules on nutritional labelling. Health warnings about cigarettes must be printed on the packaging by tobacco businesses.
So, while selecting labels for your project, make sure there is adequate room for warnings, nutrition information, and any other rules necessary.
Cost
The cost of each step is a key factor in a brand's decision-making process. Once you have located a business that satisfies all of the aforementioned requirements, then look for the cost.
However, keep in mind that pricing cannot be a substitute for quality. Always prioritise the quality of the job. Remember that expense is an investment with a future return, and vinyl labels can be the best option for good return. In the end, what matters is how well your clients can relate your brand with the good design of your sticker labels.
Wrapping Up
If you are a startup or an established business looking for the right sticker label provider, then iStick is the place you should visit. We offer stickers and labels to every type of business in all kinds including vinyl labels.
Get the latest custom stickers for your product at the best price from iStick. Check with us for your stickers and label needs.