Home » sticker printing »
How Custom Vinyl Stickers Elevate Your Product Packaging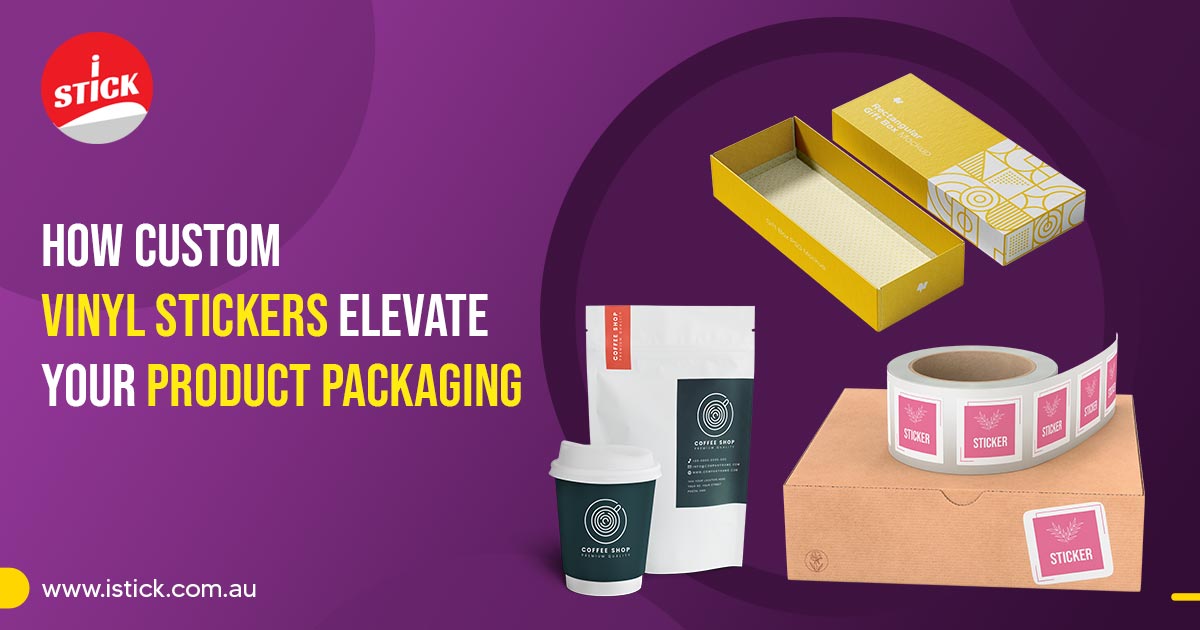 Why Elevating Product Packaging is Crucial?
Product packaging is primarily how your end users judge your brand value. As strongly as you maintain your brand value, it helps your brand stand out in the market.
It is important to remember that you are providing the first unique visual experience of your brand for your end-users. And, making a great first impression goes a long way toward retaining clients.
So, product packaging is not just about protecting your goods during its transportation or its storage. But it is so much more than that!
If how you package your product holds such high stake, then it is equally important to rethink how to improvise it constantly. One way to elevate your product packaging is through vinyl stickers.
How Vinyl Stickers Enhance Your Product Packaging?
Being an Australian custom vinyl printing company, we know a thing or two that will help you see custom stickers made of vinyl in a completely different light and its role in enhancing your product packaging.
Here are the Top 3 Reasons to Consider Vinyl Sticker Printing in Melbourne:
Branding

It can provide a unique unboxing experience with a high visual appeal, seals custom made for your packaging. This small step goes a long way in increasing your brand authority and building a higher belief in your brand within your end-users.
Provide an exclusive "Thank you for your Purchase" sticker or simply freebie vinyl stickers with your brand logo, which adds on to a positive customer experience, when you include it within your packaging. You could even add thoughtful messages, slogans and more using vinyl stickers.
Build a loyalty program using QR code stickers on your product packaging that builds customer relationship and loyalty. The QR code could lead to adding points that can discount the customers' next purchases. This also helps in branding, as you keep your customers happy and your brand memorable for them.
Merchandising your brand's logo using vinyl stickers on T-shirts, caps and other promotional products, to include them within the product packaging of certain bulky orders, are one way to build your customer relationship and branding for your company.

Informational:
One of the significant things in packaging a product is providing the information required to transport and store it rightfully and also to provide information to the end-user about the product within its packaging.
Vinyl stickers can provide information regarding your goods on the product packaging to allow your customers to know what they are getting within the package. Be it instructions on usage, ingredients, brand logo and more
Any additional info, be it security alerts, recyclable symbols for your eco-friendly products using vinyl stickers on your packaging. Letting your customers know how important you consider the environment, their safety using vinyl stickers on product packaging, increases their confidence in your company

Make your Products Standout:
Vinyl stickers can give your product and its packaging the vibrant appearance necessary to stand out, whether it is in a retail or commercial store.
Enhancing your launches with a new product packaging with silver, gold, or other fluorescent effects is an effective way to take your product launch to the next level.
Until now, we listed the benefits of vinyl stickers in boosting your product packaging. Following this, we will explain why custom vinyl stickers are also a financially savvy option.
Why Custom-made Vinyl Stickers are great for Your Product Packaging?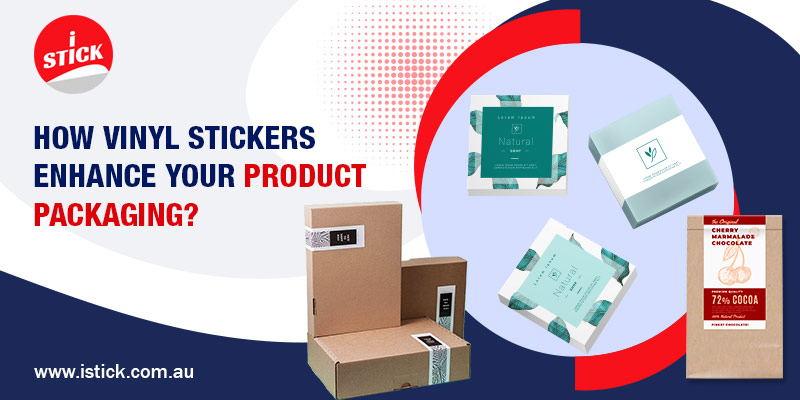 Colourful vinyl stickers have plenty of uses in the packaging industry. When you ensure to get top-notch sticker printing, it helps you gain all the benefits that vinyl stickers offer in promoting product packaging.
Versatility: Getting custom vinyl stickers made in Melbourne, Australia or anywhere else provides extensive options regarding its designs, sizes, shapes, colours or finishes. It also helps that one can use the vinyl stickers on various surfaces, including metal, glass, paper, plastic, and more.
Attention-grabbing: Yes, in the current society we live in, you only have a few seconds to make an impression and how well you make use of it matters. What better way to do it than with stickers? Grab the attention with creative stickers that speak of your brand and more, to make the most of it.
Cost-effectiveness: The affordability of stickers made from vinyl increases as the bulkiness of the order increases. The process which is required for vinyl sticker printing is quite simple and the cost per unit goes down with the overall order, making it cost effective.
Durability: Again, this is one reason which makes vinyl stickers more cost-effective. The durability of the stickers are long as they are weather-resistant, including waterproof, temperature and UV-resistant, and more.
Adhesion: When the adhesiveness of the stickers is resilient to the elements, it ensures that they will remain in place while your products are being packaged and shipped.
Whether you are aiming to increase your customer retention through better connections and loyalty with your clients, or create a branding that speaks for itself, product packaging plays an important role.
And as stated above, vinyl stickers significantly enhance your product packaging. While it also works as a highly cost effective solution. Getting vinyl stickers printed in Melbourne or anywhere else is a sure shot way to achieve a classier product packaging at a reasonable price.
If you are interested in knowing more about vinyl stickers and how to improvise your product packaging, as a prominent sticker printer based in Australia, we can help you with the same.