Home » sticker printing »
The benefits for using Window Decals for your business in Australia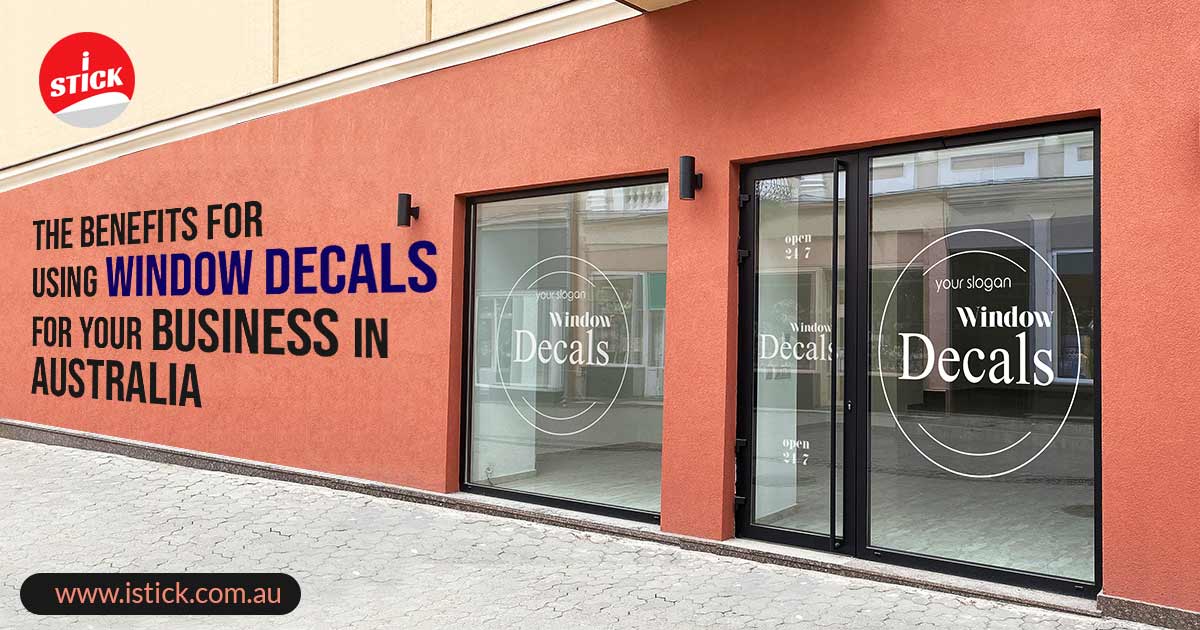 With tens and hundreds of businesses on the street, visibility of your business is paramount. Whether it is brand awareness or product awareness, customers need to know the significance of your products. While it is possible to get a few eyeballs through paid ads and sponsored posts on the internet, one very fast and effective, but least obvious way, is through the shop's appearance itself.
Why waste the opportunity to swiftly communicate to a person who is walking by your business centre and wondering what you do there? What if all it takes to convert that passer-by to a visitor, and eventually, to a permanent customer, is just sticking a few Window Decals that provide information about your business and products?
Window Decals and Window clings are static image stickers that can be attached on the windows of your business. They can be used for both commercial and retail purposes. Some of them are even stuck with static and leave no marks behind. These window stickers can be made of different materials, colours and textures, where even sizes can be customised. The best part of using them is their high value and easy access.
Types of Window Decals:
Perforated Window Graphics
They allow visibility from the exteriors of the shop to the interiors and vice versa. The print allows this visibility due to translucence.
Frosted Window Graphics
They are opaque. Can be preferred for more privacy, as they block light from exiting the interior.
Window Stickers
All about the material, these guys are tough and stand the test of time through rain and humidity.
Window Decals
While some are made of high-tack material for permanence, some are made from low-tack material for quick changes.
Static clings
These stickers use static electricity as gum and are seamless.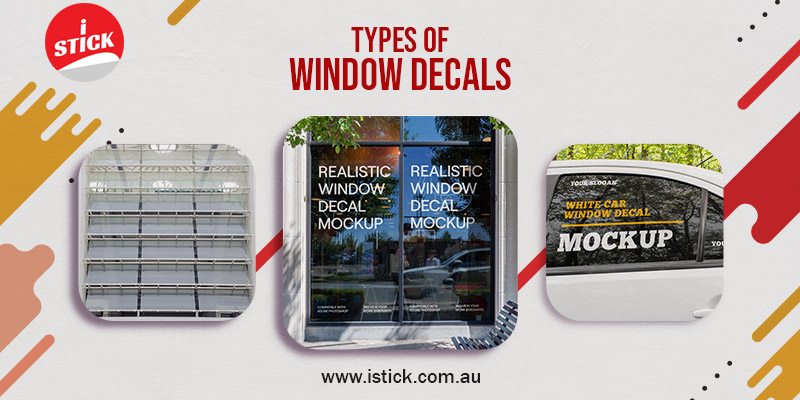 Types of Window Mountings:
Exterior Window Graphics
These decals are mounted on the exterior of the windows. They have the responsibility of sticking through changing weather conditions. At least they offer the least interruptions to interior operations while being mounted.
Interior Window Graphics
It is always safer to mount stickers on the interior end of walls and doors, due to lack of meddling by the weather and other interferences from outside. These decals can communicate both to the public or the in-store customers.
Mirror Printed Graphics
These decals face both inward and outward customers. They are usually mounted from the inside.
Permanent Window Graphics vs Temporary Window Graphics
Materials are chosen depending on whether you need graphics that communicate long term features of your business or for seasonal announcements. While window stickers and window decals are made for longevity, static clings are perfect to remove and replace, as they are made of lower-tack material.
Window Decals in Australia, the home of heterogenous businesses
Australia is home to a wide variety of businesses with their own kind of operations and requirements. Almost all industries and occupations could benefit from the use of Window Decals, but here, we have picked 5 verticals that we see using vinyl decals in Melbourne, the Capital, in order to explain how they use them.
Retail Stores
Right off the bat, the window decals help in creating an aesthetic presence, attracting customers from across the street. They can even provide information about product inventory and bring attention to sales.
Restaurants and Bars
Most restaurants and bars are heavily dependent on nightlife for the sole reason of gaining attention through LED lights. But what if custom stickers could be made, displaying their food on the walls of their restaurants in bright daylight, driving their customers crazy!
Schools
To draw attention to interesting information and facts and to remind kids of school rules, custom vinyls on the wall are really useful.
Hospitals and Healthcare
Did you know that Australia is home to one of the largest numbers of surgeons in the world? It is a common practice to make safe health do's and don'ts clearer to understand to the general public by printing out icons for their hospital walls in the form of window decals.
Gyms and Fitness
Some customers are self-motivated while some drag themselves from bed to get to the gym. A good gym uses custom decals to get their customers going. Sometimes its words of inspiration, and sometimes it's a picture of a celebrity lifting weights. They all can be printed.
Contact iSTICK for your custom Window Vinyl decal needs
Whichever shape you need – Squares, Rectangles, triangles, name it, we've got them. If we don't, we'll custom make whichever shape you need. Whether its kiss cut or die cut, full colour or foil material, we give you a quote regardless and we deliver throughout Australia.
Place your first order today on www.istick.com for the best vinyl decals in Australia.