Home » sticker printing »
Why are Die Cut Stickers a Popular Choice for DIY Projects and Crafters?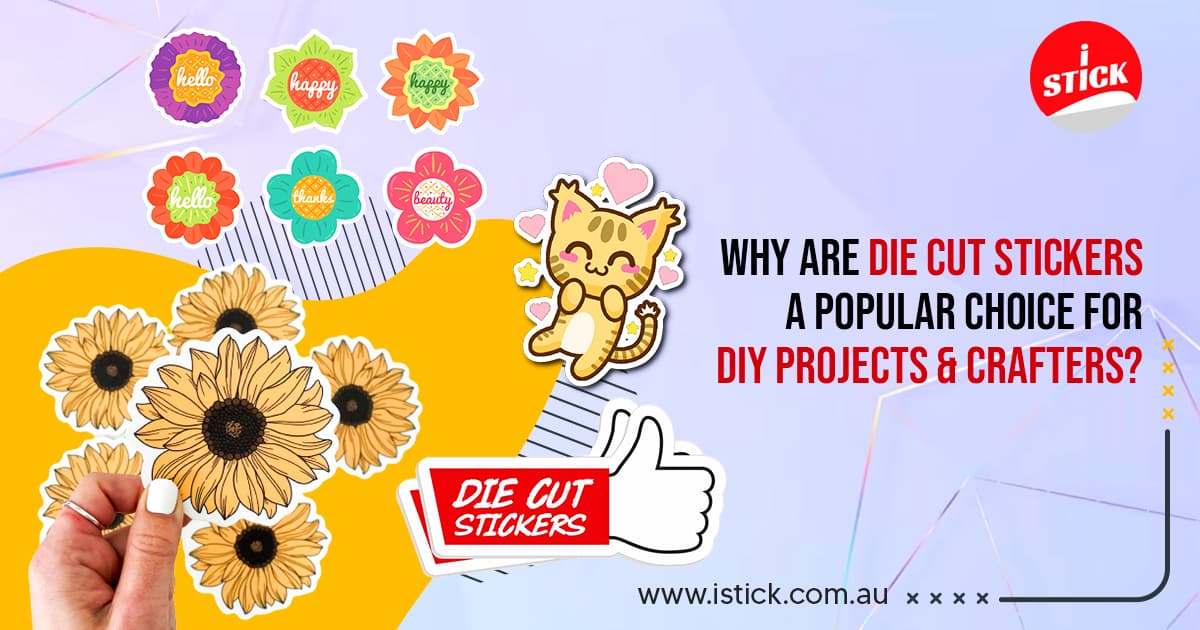 Crafters with their DIY projects now can monetize with the direct-to-consumer market. With multiple online marketplaces and eCommerce websites available for D2C marketing for handicrafts, crafters are finding unique ways to stand out among competitors.
One of the popular ways that crafters and DIY projects have adopted to stand out is the use of die-cut stickers. Labeling the handicrafts is essential to provide information regarding the material used, safety instructions, and so on. There are plenty of other reasons custom die-cut stickers are popular in DIY projects and crafters, listed below in this blog.
But, if you are new to the world of stickers and are not sure about what die-cut stickers are, no worries. You are about to be introduced to the world of die-cut stickers and labels and their various applications.
What are Die Cut Stickers?
Die-cut sticker printing is used to create and design the adhesive customized die-cut labels and stickers that can be made from multiple materials, including paper, plastic, and vinyl, to name a few. A cutting or design tool referred to as a "Die" used in the process gives these stickers their unique name.
Reasons Die Cut Stickers are Popular in DIY Projects and Crafters: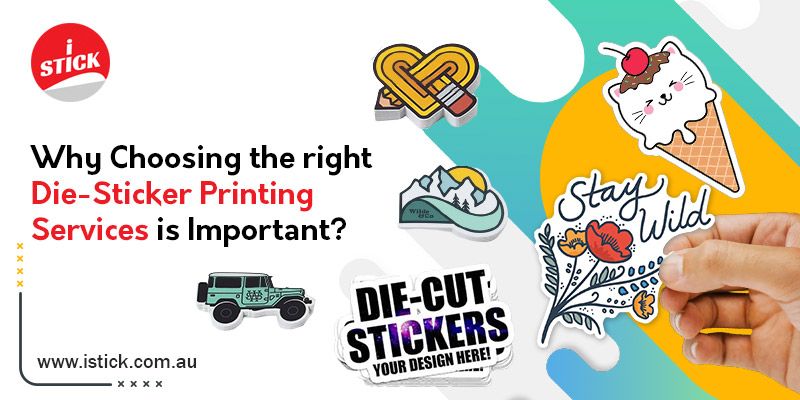 Customizable:

The versatility of die-cut stickers and labels in their shape, color, design, and size has led to their popularity amongst Crafters and in DIY projects.

Economical:

With cost-effective die-cut sticker printing, one can produce die-cut labels in small quantities at an affordable price, and allow crafters to make the best use of them.

Superior quality:

Being versatile, you can produce waterproof vinyl cut stickers to die cut stickers and labels in multiple materials of supreme quality, making them a highly durable and superior quality choice.

Practical:

The adhesive DIY stickers available through die-cut sticker printing are extremely functional as they adhere to various surfaces, including paper, fabric, and plastic, to name a few, are easily transportable, and storable, and come with easy applications, to make them highly practical option.

Attractive:

The die-cut stickers are a way to give DIY projects the awe-inspiring touch and immensely increase their attractiveness with their attention-grabbing designs and finishes, making them crafters' favorite choices!

Customer Experience:

Being a DIY crafter in D2C marketing, it is important to create lasting impressions and enhance customer experience. What better way than using customized messages and quotes and adding that personal touch using die-cut stickers?

Brand Awareness:

Crafters can engage with their end-users and create their mark as a reliable brand, as well as create brand awareness using unique, custom die-cut stickers in their promotional marketing strategy.

Applications:

Not just for crafters who like to monetize, but for those who are passionate and just like to spend their time creating great DIY projects for gifts, home & party decor, scrapbooking, decorating mobile and other electronic appliances, die-cut labels and stickers are a great versatile option with their diverse applications.

Packaging:

Die-cut labels are extremely handy to use on packaging boxes or materials and educate the end-user about the handicraft product within, but also provide maintenance instructions and any other relevant information about the products.

Eco-conscious:

As the materials used for die-cut printing can also be biodegradable vinyl and recycled paper, the DIY crafters who promote eco-friendliness as well find die-cut stickers a great eco-conscious choice.
Why Choosing the right Die-Sticker Printing Services is Important?
After reading why amongst crafters and in DIY projects, die-cut labels or stickers are popular, the next step is equally important: choosing the right die-cut sticker printing.
For any crafter or DIY project involving die-cut stickers, to go according to plan requires on time delivery of stickers, accuracy in design and the quality and durability of the custom designed stickers. All the responsibility of producing excellent stickers falls on the die-cut sticker printers.
When you opt for a die-cut sticker printing service in Melbourne or anywhere across the globe, considering the following factors given below aid in getting superior die-cut stickers.
Look for years of industry experience
Top-notch customer testimonials
Whether they provide samples
Instant and competitive Quotes
Also, it is important to check if they offer designers and design specialists who can assist you with your designs and any queries you may have, respectively.
Do you still have further queries regarding die-cut sticker printing? iStick is a sticker printing service in Melbourne, Australia, with over 2 decades of experience providing superior quality stickers of multiple kinds to all our clients and we can gladly help you with your sticker queries.