Home » sticker printing »
Top 8 Reasons to Use Custom Stickers for Packaging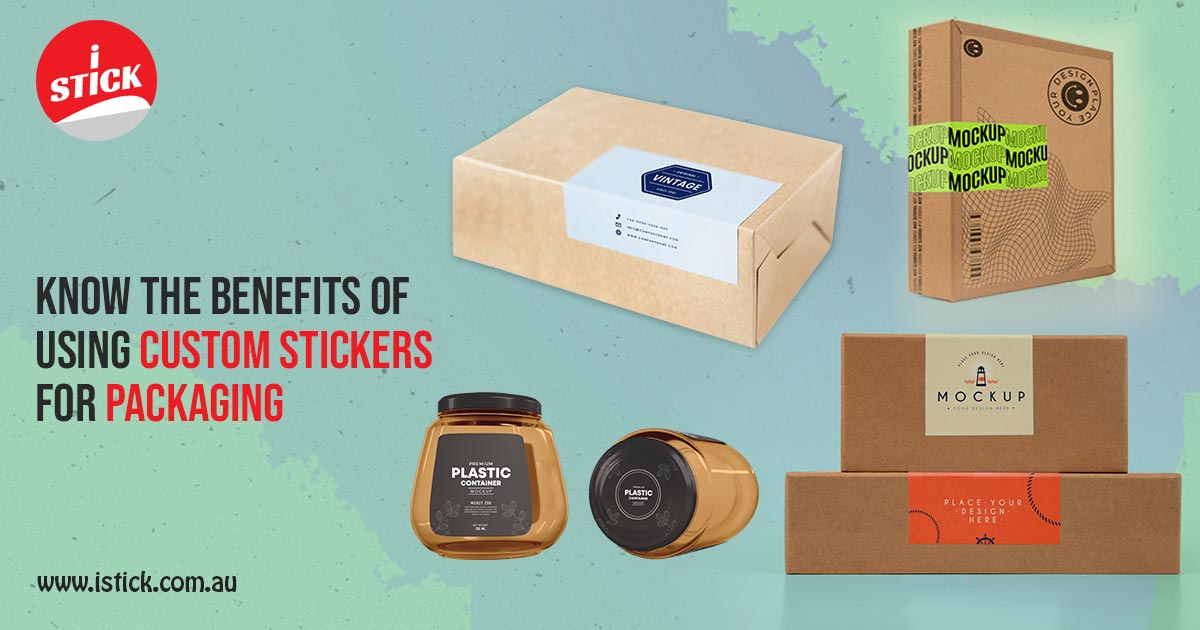 In today's competitive world, it might be tough to choose the best marketing strategy to captivate the minds and hearts of your target audience. Brochures, pamphlets, and other promotional materials are the usual medium of marketing used by various firms.
If your organization is to shine distinctive, one crucial aspect is its uniqueness. This is when individualization comes into play.
One of the unique ways of marketing strategies is to use customized stickers. At a low cost, they aid in the creation of brand recognition. When it comes to customized packaging, personalized stickers are an excellent way to test the waters.
The top Benefits of using Custom Stickers for Packaging
Versatile Use
Stickers and labels are adaptable as they come in various forms and sizes. Its multifunctionality is a significant benefit, allowing business owners to employ them in various situations, from trade exhibitions to product packaging.
The complete creative control over the design lies with you. It might be anything as simple as your brand logo, a visual depiction, a theme, or a significant and appealing graphic art.
Personalized stickers used in packaging are a valuable promotional tool that should not be overlooked when planning a marketing campaign.
Distinctive Feature
Personalized stickers are a sure-fire approach to make your product stand out from all other businesses in an era of competition with many comparable items vying for customers' attention.
A striking label with excellent graphics is the ideal technique to capture potential clients' attention. It is highly effective in capturing the attention of children and teens. Young people are often drawn to products with attractive packaging.
Provides Knowledge
Custom sticker packaging is also a great way to spread the word about your goods & services. An appealing label with engaging typography, adorable clip-arts, and fascinating photographs helps entice clients and interactively gives essential information.
Stickers can also communicate information about the charity, contributions, special offers, and product discounts.
Product specs, warranties, usage directions, and even usage cautions can be included on personalised stickers.
Eye Catchy in Events
As a businessman, you can't frequently keep attending various trade events, seminars, conferences, or exhibits. In these situations, well-designed personalized stickers may be an effective tool for attracting clients.
Unlike the Portfolio, which takes more time to read, attractive stickers may also be used as a brochure or leaflet, instantly communicating a meaningful message to your audience.
Personalized sticker labels in packaging are also a unique option that may be used for various occasions, including festivals and memorable celebrations, like baby showers, bridal showers, children's birthday parties, weddings, housewarming parties, and graduation celebrations.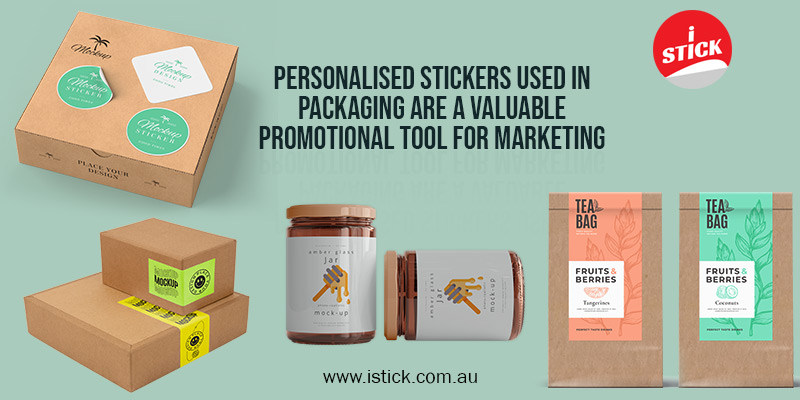 Brand Recognition
Custom labels with impressive logos and crafty taglines are an excellent approach to enhancing product branding. An effective strategy to boost brand image is custom packaging sticker labels with the business logo or values.
The more clients have seen the iconic stickers with the firm name and symbol, the stronger the impression will be. They'll share their stories about it, and that's how you'll get your name out there.
Wider Market Reach
Custom stickers used in the packaging of items have a tremendous reach and may be put on nearly anything, including bags, automobiles, laptops, coffee cups, and water bottles. A more extensive market reach may help you advertise your company, service, and business in remarkable ways.
Bespoke labels are one of the most effective and cost-effective marketing strategies accessible today due to their extensive connectivity and long-lasting effect.
Cost-Effective
Custom-made packaging Sticker Labels are the most affordable choices available. You won't have to invest much money, and the benefits of marketing will quickly pay for themselves.
You'll save money, and the printing can be done with minimum material. You may also buy in bulk to get a discount on your order. So, custom stickers are a great choice if you're looking for a low-cost way to market your products.
iStick creates one-of-a-genere marketing for custom stickers in Australia.
A Strong CTA
One method to get the most out of the labels and stickers is to use them as a solid call to action. A successful marketing method is to print the discounts details or sales promotions on a label and attach it to a brochure with the contact information.
The coupon information on the attractive stickers will entice people to acquire more information, and they will contact the shop via the information on the flyer.
Conclusion
Professional sticker printing is simple, trustworthy, faster, more durable, and of higher quality. Customized labels let your products and business stand out from the crowd. They aid in the differentiation of your goods from others in the bunch.
iStick designs personalised stickers in Australia, which effectively stimulate client attention, generate excitement, increase brand value, and increase sales for your firm.