Home » sticker printing »
Factors Affecting the Cost of Printing Custom Stickers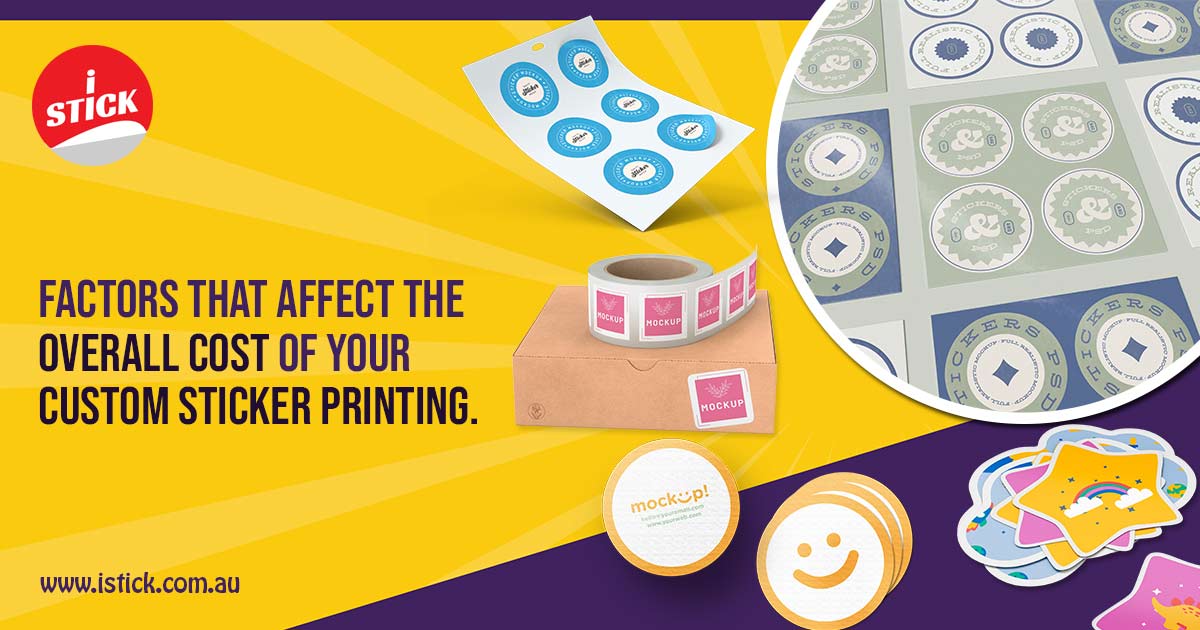 If you are a large business or an entrepreneur, custom stickers have always been popular as a promotional tool for advertising. Business individuals don't realize that the world of custom vinyl stickers is vast, with countless stock materials, various sizes and shapes, and adhesive options that affect the vinyl sticker printing cost.
However, there are many instances where the business has used custom stickers, labels, and decals to advertise its brand. But they have failed to create a lasting impression in people's minds due to using low-quality materials and cutting costs.
Any manufacturer of consumer-packed goods is aware of the production costs because these costs affect the final product. Personalized sticker printing cost is the critical factor influencing the unit per sticker. Custom sticker prices depend on the print methods, shape, size, colors, tooling, and more.
You have several aspects of the sticker printing and application process for preparing your new custom sticker design. Still, you may find some extra custom stickers cost associated with sticker printing. So, how do you make the right choices to lower vinyl sticker printing costs and get reliable, affordable stickers?
Factors that Determine the Cost of Printing Custom Stickers
Custom stickers have been around since the 70s and are a great way to display your products, service, or simply for fun. Personalized stickers have several benefits for personal or business uses to draw the attention of potential customers.
Whether you're looking for a custom sticker for personal or business use, the sticker printing cost will likely be a factor in your decision on where to purchase your stickers. As per your requirements, Istick, a sticker printing company in Australia, suggests alternatives to lower custom sticker prices. But below are some of the prevailing factors that impact the cost of custom stickers.
Stock Paper Used
There are numerous materials for sticker printing, but the paper sticker is cheap compared to transparent or white vinyl. If you plan to use chrome or clear vinyl polyesters, the custom stickers cost increases while designing and printing stickers. There are various materials types, such as holographic, reflective, static, and laminated vinyl which are durable and costly.
Partner with a reliable sticker printing company like Istick to get top-notch custom stickers at cost-effective prices and suggest the types of material and adhesive that could reduce the overall vinyl sticker printing costs.
Imprinting Method
The print method is another vital factor in determining the sticker printing cost. According to your requirements for your business or service, the durability of your sticks and different printing methods can affect the bulk custom sticker prices.
You can choose a wide variety of sticker printing, including offset printing, digital printing, screen printing, and flexographic printing. For instance, you can pick the full color or four-color process, also called 4-CP, to attract eyeballs with vibrant colors. This effect the quality and custom stickers costs.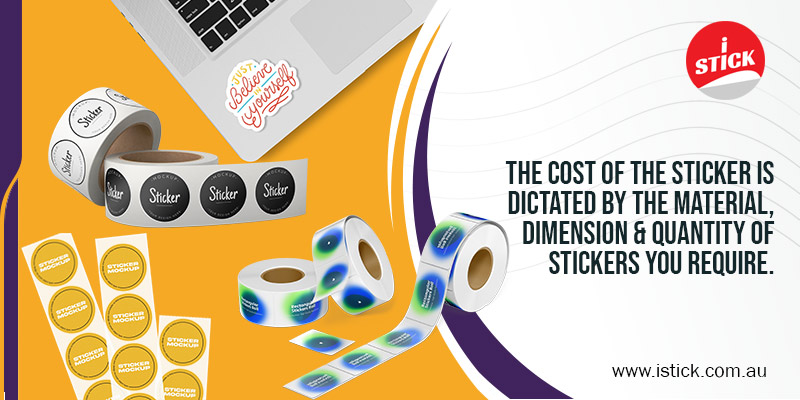 The Shape of the Sticker
If you are ordering stickers for your personal use, then small shapes stickers are good, but if you need to promote your brand with customized stickers at an expo, trade show, or an event, then opt for largely shaped stickers so you can attract eyeballs from afar. So decide which shape of the sticker to get, and the cost will depend according to your needs.
Istick, a sticker printing company in Australia, is equipped with any custom shapes, be it square, rectangle, circle, oval, bumper stickers, wine labels, beer labels, or decals, you need to upload your artwork, and we will deliver all around Australia.
Size of the Sticker
The size is the vital factor. If you own an eatery, you need a mid-sized sticker for the wall or door. If you have a mall shop, you need big stickers to affix on the floor or doors or for directions signs. Your desired stock size is less expensive than a custom-made shape or size.
The vinyl sticker printing cost will be more because larger sizes use more materials. You can ask a sticker printing company for various size breaks for custom stickers, so if you need to adjust the sticker size, it can reduce sticker printing costs.
Vibrant Colors
As we discussed above, in the imprinting method, each additional color added to your personalized stickers, be it on the front or backside, may increase the overall custom sticker prices. Several color combinations you can add may be full color or 4-CP for print printing, may increase costs, or, in some cases, decrease custom stickers cost for multi-color labels or decals.
Istick is a sticker printing company in Australia that uses the latest technology to produce vibrant and bright custom stickers in full color on any stock material. The stickers produced are sharp, solid, and hardwearing for extra durability.
Quantity
Your vinyl sticker printing cost can depend on your order quantity. Print bulk stickers with a logo to promote your brand if you need to distribute your stickers at an event, expo, or trade show. Higher quantities lower the sticker printing cost per decal or sticker. The cost per sticker eventually increases if you order lower quantities with high-quality materials and color types.
At iStick, there is no limit. You can order any quantity, stock, and size, and experts at iStick create custom stickers per your requirements with a fast turnaround time. Ask for price breaks for outdoor or indoor stickers to lower bulk custom sticker prices.
Are you ready to order some personalized stickers, decals, or labels? Contact iStick, a sticker printing company in Australia, to produce high-quality stickers at affordable prices. Go on our website, click on pricing, and place a sticker order with your artwork and we will let you know as your stickers are ready to be delivered.